Read time:

1:30min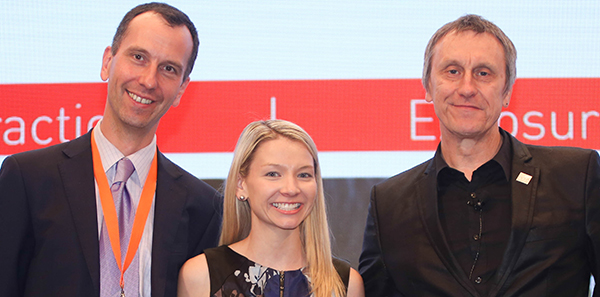 Kylie McNeill with Professor James Wolffsohn (L) and BCLA president Brian Tompkins   Photo: BCLA
______________________________
By Helen Carter
Journalist
Kylie a BCLA Fellow
Brisbane optometrist Kylie McNeill achieved British Contact Lens Association Fellowship at the BCLA Asia conference in Hong Kong.
The BCLA Fellowship scheme recognises a member's esteem in the field of contact lenses and the anterior eye. The conference was held outside the United Kingdom for the first time, on 13-14 September, and was a partnership between the BCLA and the Hong Kong Cornea and Contact Lens Society.
Ms McNeill works at Eyesmatter Clinics alongside corneal ophthalmologist Dr James McAlister, complementing her interests in specialised contact lens fitting and keratoconus. She also works for Mark Hinds Optometrists and is a clinical supervisor at the QUT Optometry Clinic.
CooperVision renews OGS sponsorship
CooperVision has renewed its global gold sponsorship of Optometry Giving Sight for 2017.
CEO of Optometry Giving Sight, Clive Miller, said in a media release that this kind of charitable financial support enabled the organisation to plan for the future and ensured that it was able to continue funding key program areas including optometry development and child eye health.
CooperVision president, Daniel McBride, said it was inspiring to know that hundreds of thousands of individuals were benefitting from initiatives funded in whole or part by CooperVision's commitment, and that its goals and mission directly aligned with those of Optometry Giving Sight.
Vote for CERA to fund eye testing
The Centre for Eye Research Australia (CERA) wants the public to vote for it in a Google competition to help CERA take eye-testing to remote communities.
CERA is a finalist in the 2016 Google Impact Challenge in Australia in which Google is giving $4.5 million to Australian non-profit innovators with big ideas for a better world. Judges will vote to deliver most of the funding but one winner will be chosen based on public voting to receive $750,000.
CERA would use the money for its Vision At Home project to address the lack of access to vision testing for Australians in rural and remote communities. Its visual acuity self-assessment system provides a way for as many as 100,000 rural, elderly and mobility affected people over the next three years to test their eyesight at home using a computer with internet access and a webcam.
Vote for CERA in the Google Impact Challenge.
Drug helps prevent blindness
The drug rituximab helps reduce relapse and disability in neuromyelitis optica spectrum disorders, new research shows.
Researchers said these disorders were autoimmune astrocytopathies characterised by predominant involvement of the optic nerves, specifically optic neuritis, and spinal cord.
Disability is attack-related because each relapse causes accumulation of disability. Within five years of onset, half the patients with neuromyelitis optica require use of a wheelchair or become functionally blind.
A systematic review of 46 studies and meta-analysis of 25 studies, published online on 26 September in JAMA Neurology, found rituximab reduced the frequency of relapses and neurological disability but researchers concluded adverse effects in 26 per cent of patients suggested caution in prescribing it as a first-line therapy.
Rituximab has been increasingly adopted as a first-line off-label treatment for the condition.
Phony nurse fined
A Darwin man has been convicted and ordered to pay more than $40,000 for falsely claiming to be a registered nurse.
The Australian Health Practitioner Regulation Agency and the Nursing and Midwifery Board of Australia brought legal actions in Queensland and in Western Australia against Nicholas Crawford who was charged with 14 offences in July 2015.
Crawford pleaded guilty in Cairns Magistrates Court on 29 September 2016 to holding himself out as a registered nurse in Queensland and using the titles nurse and registered nurse. He was convicted of breaching the National Law and fined $3,500.
He was convicted in August 2015 in Perth Magistrates Court of claiming to be qualified to practise, unlawfully using the title or name acting clinical nurse, and holding himself out as a registered nurse, and fined $30,000. He was ordered to pay total costs of $8,250.
AHPRA CEO Martin Fletcher said in a media release: 'This type of conduct is completely unacceptable to the public, and AHPRA, on behalf of National Boards, will continue to take legal action against individuals who impersonate or act falsely as registered health practitioners. This outcome demonstrates our work is helping to protect patients across Australia from those who pose as registered health practitioners.'
Filed in category:
Uncategorised