Read time:

1:30min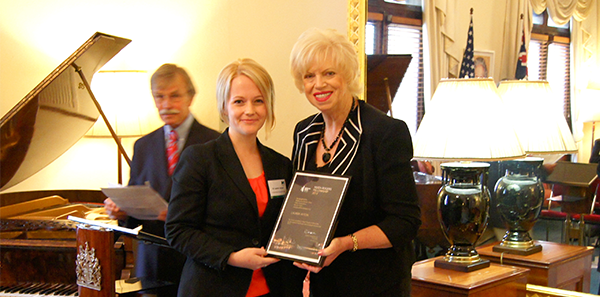 ______________________________
Dr Lauren Ayton, bionic eye clinical research co-ordinator at Centre for Eye Research Australia (CERA), has been awarded a prestigious fellowship which will see her working with the professor of ophthalmology at Harvard Medical School, leading an international joint task force.
Dr Ayton was awarded the Hugh Rogers Fellowship from the Melbourne Boston Sister Cities Association on 28 October.
She will spend one month in Boston working alongside Professor Joseph Rizzo, Professor of Ophthalmology at Harvard Medical School. The task force aims to gain consensus on the assessment and reporting of outcomes in vision restoration trials.
The fellowships, worth up to $20,000 each, are awarded each year to one or more recipients whose areas of focus are in education, health care, arts and culture, or medical research.
Each fellowship is intended to assist the longer-term development of the fellow's career by furthering their research or project and by providing them with opportunities to create new professional networks.
Dr Ayton completed her PhD in paediatric optometry at the University of Melbourne in 2004, before completing a postdoctoral position in the area of traumatic brain injury and ocular motor function.
As an early career researcher, she has earned an impressive international reputation for her work at Bionic Vision Australia. She received the CERA Award for Research Excellence in 2012 and a fellowship of the Australian College of Optometry.
Filed in category:
Uncategorised