Read time:

1:30min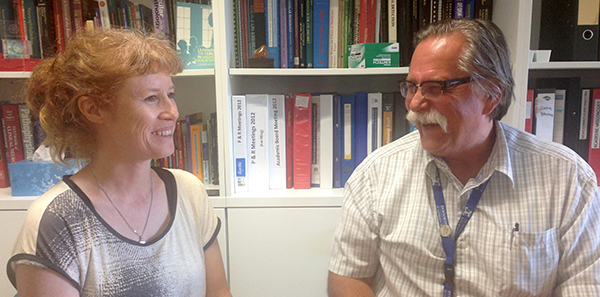 Associate Professor Allison McKendrick and Professor Algis Vingrys
_____________________________
Two of Australia's leading optometry schools are now led by women. On 1 April, Professor Algis Vingrys steps down as Head of the Department of Optometry and Vision Sciences at the University of Melbourne as Associate Professor Allison McKendrick becomes the first woman to take on the role.
Professor Fiona Stapleton is head of the School of Optometry and Vision Science at the University of New South Wales.
Professor McKendrick, who is also a director of Optometrists Association's National Board, said the Melbourne school had the potential to be one of the world's leading optometry schools in research, teaching and international reputation.
'This is an exciting time for optometry in Australia. There is increasing scope of practice and optometry has a key role to play in meeting the eye-care needs of Australia,' she said. 'We are training the future of the profession, which carries with it a huge responsibility.
'We are one of the few optometry schools in the world to be embedded within a university that is ranked in the top 50 universities internationally across all fields. This provides an excellent foundation for us to play a leadership role within optometry education and research internationally.
'In the short term, our goals are to consolidate and enhance our Doctor of Optometry degree, to continue to expand our research to enhance the knowledge base that underpins and develops the vision sciences, and to contribute to wider international debate about how to best educate optometrists at both the primary optometry degree level and post-graduate education,' Professor McKendrick said.
Professor Vingrys said he passed on the mantle to Professor McKendrick with full confidence and looked forward to watching her lead the group to an ever brighter future.
'I have enjoyed the past two and a half years as head, ably assisted by my deputy heads and a very talented staff, in creating what I believe is a premier teaching and research group in optometry and vision science,' he said in his final newsletter.
Highlights included building on the department's excellence in teaching, clinics and research.
Professor Vingrys said significant outcomes included the successful implementation of the OD, occupancy of new campus premises at the Alice-Hoy Building, University of Melbourne Eyecare clinic and Melbourne Brain Centre, growth of UMeyecare, first-rate staff appointments, growth in research programs and graduate degrees, and greater engagement with the university and profession.
'The move to our new facilities and the successful implementation of the OD have given time for staff to regain their competitive edge, attracting $2.18 million in grants in 2013,' he said. 'The future looks good with continued success at National Competitive Grant Schemes over the past year.'
He said the world-class and collegiate learning environment had resulted in a steady increase in higher degree student numbers from 29 in 2010 to 37 in 2014 and publications rose, with peer-reviewed research papers increasing to 94 in 2013.
The Australian Research Council's Excellence in Research Australia evaluation in 2012, which evaluates the quality of research against national and international benchmarks, judged the optometry and ophthalmology node at the university as five star and performing 'well above world standard'.
Another highlight was consolidation of the teaching specialist group, for which quality and innovation led to $96,700 in teaching and learning grants.
Professor Vingrys said he looked forward to getting back to the coalface of frontline research, clinical education and community outreach, spending quality time in research supervising graduate students, extending the impact of the profession in the region and promoting new clinical research.
Filed in category:
Uncategorised