Read time:

1:30min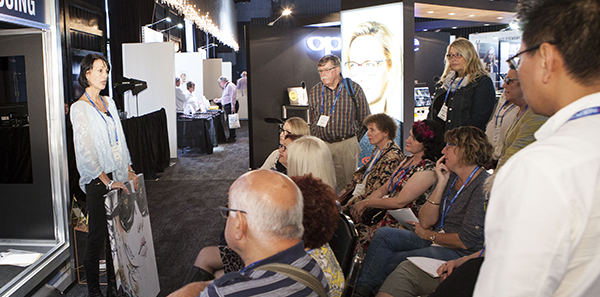 Window dressing presentation at OShow2016
______________________________
By Helen Carter
Journalist
OShow2018, a boutique event for the optical industry which showcases the latest trends in technology and frame fashion, will be held in Melbourne next July.
The event's organiser, ODMA, has announced new scholarships for the industry to coincide with the show. Up to five scholarships for optical dispensers who work for independent optometric practices around Australia will be available to help fund their Certificate 4 in optical dispensing studies.
OShow2018 will take place at Docklands on 14–15 July and is well-timed for the latest frame and sunglass releases to be presented from MIDO and the USA.
The event is owned by the Optical Distributors and Manufacturers Association of Australia (ODMA) and has been developed for the optical industry by the industry. It follows the successful inaugural OShow16, which was held in Melbourne in 2016.
CEO of ODMA Finola Carey told Optometry Australia: 'OShow is very different from ODMAFAIR which is the big event in our calender. OShow is a boutique event in 1,600 square metres, which we started as an opportunity to bring an offering to Victoria, due to demand.
'People were asking us for an offering in the CPD-free zone to highlight frames which don't get as much of a showing at the major CPD conferences,' she said.
'It's a more relaxed and funky environment than ODMAFAIR as the booths are on display all day and there is a cocktail party on Saturday evening. We also have some education and demonstrations such as how to display windows and some business talks.'
With a background steeped in optical industry events including ODMAFAIR, Ms Carey said she was looking forward to developing this new business event to the next level with trend leading features and experiences.
Demand from exhibitors had been strong, with 50 per cent of display booths sold within one week of the launch on 16 November, she said.
Chairman of ODMA Robert Sparkes said in a media release: 'OShow is a non-CPD event with the emphasis on hands-on demonstrations, and the opportunity to compare and contrast new products and equipment.'
As part of the event, ODMA will provide funding for the charity Optometry Giving Sight.
Ms Carey said that for interstate and regional visitors wishing to take advantage of a weekend away, 14–15 July was the perfect weekend for Melbourne's sporting and cultural events. The AFL season would be in full swing and Sydneysiders could watch the Sydney Swans on Sunday afternoon at Etihad stadium after a few hours browsing at the show. There would also be great theatre productions in Melbourne that weekend, she said.
OShow2018 will be held on 14–15 July 2018 at Peninsula, Shed 14, South Wharf, Docklands, Melbourne. Entry is free but optometrists must register. Book flights and accommodation. For exhibitor or visitor enquiries contact ODMA on 02 9450 0765.
Filed in category:
Uncategorised