Read time:

1:30min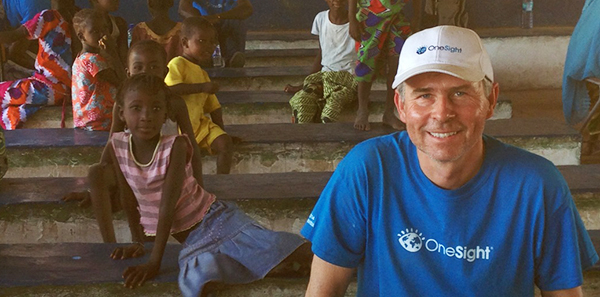 Peter Murphy in Boiram village classroom, The Gambia, 2014
_____________________________
By Rhiannon Riches
Assistant Editor
Peter Murphy has been appointed Director of Eyecare and Community at Luxottica, the most senior optometry position in the company.
Mr Murphy will head optometry and OneSight in Luxottica in Australia and New Zealand in his new role.
'Eye care and OneSight are two passions of mine, so for me it is my dream job,' Mr Murphy said.
'Our eye-care team comprises between 600 and 700 optometrists across Australia and New Zealand, so it is an important role that has a huge impact on the quality of eye care and services that are provided to both the Australian and New Zealand communities.
'Eye care is one of the three pillars that underpin our success in Luxottica, the others being our range and service. We have world-leading spectacle brands and we seek to provide life-changing eye care to our customers,' Mr Murphy said.
OneSight is Luxottica's charitable foundation which provides eye tests and spectacles to those in need, across the country and around the globe.
'Our OneSight program in Australia and New Zealand delivers eye-care services to Indigenous, regional and local communities. Our indigenous clinics provide ongoing services to the isolated communities at Doomadgee, Palm Island, and Mornington Island in Far North Queensland.
'Our regional clinics involve an important collaboration with the Royal Flying Doctor Service providing access to eye care in remote parts of Victoria. Our local school screening program delivers eye screening and full testing to primary schools in low socio-demographic areas across Australia,' he said.
Globally, the OneSight program extends to more than 41 countries and has provided services to more than nine million people worldwide in its 27-year history, according to Luxottica.
Mr Murphy said highlights of his career included his participation in OneSight clinics, taking him around the world.
'I have had the privilege of being involved in some of the indigenous clinics in remote parts of Australia, and internationally in places such as Fiji, Thailand, The Gambia and most recently, rural China.'
Career
Mr Murphy's career with Luxottica commenced as an optometrist and store manager with Laubman & Pank in Perth.
'I went over to Perth for a working holiday. Perth has a great lifestyle; the sun and the surf meant that I stayed much longer than expected. A decade or so later, I had transitioned from being an optometrist to a professional services manager for OPSM across Western Australia and the Northern Territory, to being regional eye care manager for Luxottica,' he said.
'About six years ago, my wife and I relocated back to our home city of Melbourne, and I have been working as professional services manager for OPSM in Victoria, South Australia and Tasmania in that time.'
Mr Murphy said it had been a natural evolution from practising as an optometrist to taking on a broader managerial role.
'While I was working as an optometrist and store manager I completed an MBA part-time at the University of Western Australia, which satisfied my curiosity to be more actively involved in the business side of the profession.
'During my career I have embraced the many opportunities and challenges presented to me. This has kept me engaged and continues to drive me to be more involved in ensuring we provide great eye-care services and deliver them in the most effective manner,' he said.
'While I still maintain a keen interest in general optometry consulting, and ensuring our optometrists are providing the best possible clinical care, I am now more heavily involved to ensure we deliver those services on a grander scale.'
In his previous role of professional services manager, Mr Murphy was involved in recruiting new graduates to join the company.
'Graduate recruitment has always been a strong focus for me. Our business is undergoing continuous growth and we are constantly searching for the best talent to join our team. New graduates are the lifeblood of the profession; they always bring the latest clinical skills and new ways of thinking to our business. We are looking to constantly improve, and they inject some much appreciated energy and vitality,' he said.
Talking with new graduates about their career aspirations and providing them with the best possible opportunity that fits with their life time goals is an enjoyable challenge for Mr Murphy.
'Being involved in graduate recruitment is particularly rewarding and provides a great deal of job satisfaction for me. I've helped provide a large number of graduates a start to their career.
'Some of our new graduates have been very young and green when they first started, and I have seen them grow and develop to now become leaders in our profession. To have played a small part in their growth and development is extremely satisfying for me,' he said.
Leadership
Mr Murphy has served on the national board of Optometry Australia as a director for Western Australia. He said being a national director gave him a broader view of the eye-care space. 
'In a holistic sense, probably the most important thing I learned from that experience was to say "yes" to opportunities that present to you, and to get involved. Many opportunities pop up from time to time, and it is easy not to get involved. But I would encourage anyone to invest some time in their longer term career pathway and become involved in our profession, that is, to connect and be part of the Optometry Australia body in their state or territory,' he said.
'Being involved as a director gave me a keen appreciation of the huge efforts that go on behind the scenes to advocate and progress change in the profession of optometry. Countless hours are put in by the many unsung heroes of our profession in lobbying governments, both state and federal, and various stakeholders to achieve the best standard of eye care for Australians.
'During my time on the board we made significant progress in a number of areas, including the introduction of therapeutics legislation across all states, inclusion of therapeutics on the PBS, and some of the enhancements to the Medicare billing codes that were introduced at the time. Many of these successes are now taken for granted, but they did not occur without some serious blood, sweat and tears,' he said.
'As optometrists, we are very lucky to be involved in a great profession. The many people I have come across while being involved with Optometry Australia helped me learn about strong leadership and those people have been an inspiration to me. Just as importantly, I have also met some fantastic individuals and many will continue to be lifelong friends. I am very grateful for that experience.'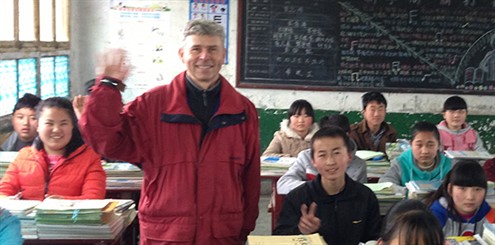 In Xian, rural China, 2015
Anthea Muir, Luxottica President Retail Optical ANZ, is also an optometrist.
Filed in category:
Uncategorised