Read time:

1:30min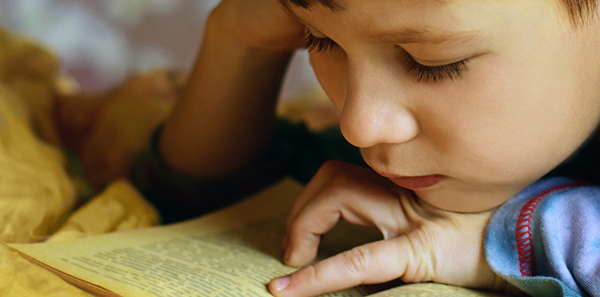 By Helen Carter
Journalist
A new evidence-based myopia calculator will help optometrists communicate and educate patients about managing myopia.
The free web-based tool, developed by Brien Holden Vision Institute, enables practitioners to go online and calculate a patient's rate of myopia progression and how it would be reduced if myopia treatment were implemented.
It merges individual patient information with different optical and pharmacological treatment options to illustrate the impact on the individual patient's future level of myopia.
When an optometrist fills in a child's age, level of refractive error and myopia management options, the tool then demonstrates the effect of various treatments on myopia progression and how the myopia is likely to progress without treatment.
The calculations provide a coloured graph which patients and children's parents can easily understand, estimating progression with and without myopia management and showing the percentage reduction in progression of myopia compared to standard correction such as single vision spectacles.
For example, if a child aged six years has a refractive error of 0.50 D, the calculator shows that if myopia control is not started immediately, the final level of their myopia at age 17 might be -7.31 D.
It explains that if multifocal soft contact lenses are prescribed immediately, there will be a 59 per cent reduction in progression of myopia compared to standard correction such as single vision spectacles. This means the level of myopia would be -3.29 D at age 17.
Other myopia management options included in the calculator are peripheral defocus spectacles, executive bifocals, progressive addition spectacles, orthokeratology, low dose atropine (0.01-0.05 per cent), high dose atropine (1.0 per cent) and combined treatment.
The simple to use tool runs on a range of electronic devices and has been developed as part of the myopia management program being implemented by Brien Holden Vision Institute.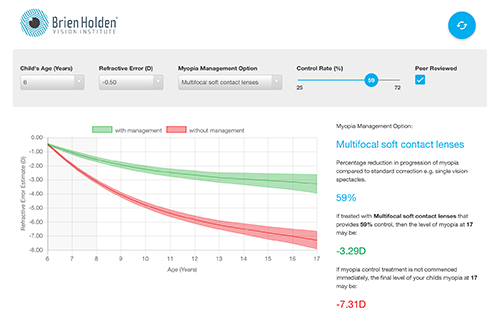 Image: Brien Holden Vision Institute
'We have a series of myopia projects to address a major public health problem of our times,' the head of the myopia program at Brien Holden Vision Institute, Professor Padmaja Sankaridurg, said in a media release.
'We're not only developing novel optical treatments for myopia management and conducting epidemiological research, but through professional development courses and aids like the calculator, providing practitioners with the knowledge and tools to offer their patients the best evidence-based treatment options.'
The institute's online 'Managing Myopia' course, which has been trialled for Australian practitioners, is now also being run in the USA and India, and will soon be translated in Chinese.
Filed in category:
Uncategorised