Read time:

1:30min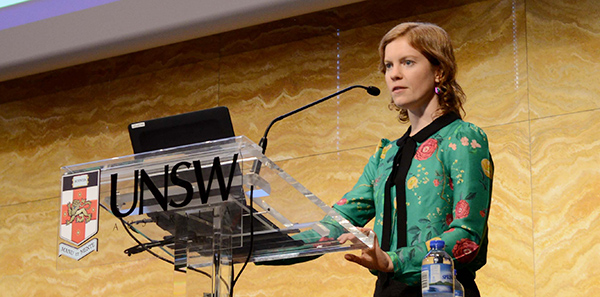 Kate Gifford speaking at the BHVI myopia event   Photo: BHVI
______________________________
By Rhiannon Riches
Assistant Editor
200 turn out for Brien, myopia
More than 200 optometrists heard from myopia experts at the 2016 Brien Holden Lecture Series at UNSW Australia on 31 July.
Speakers at the commemorative event for Professor Brien Holden included Optometry Australia national president Kate Gifford; leading global myopia researcher from Brien Holden Vision Institute, Associate Professor Padmaja Sankaridurg; CEO Professor Kovin Naidoo; and University of Technology Sydney Head of Orthoptics, Professor Kathryn Rose.
Attendees received up to 18 CPD points for hearing an overview of the projected myopia epidemic, about the aetiology, methods of slowing and controlling progression and what they can implement in practice.
They also attended workshops on binocular vision and therapeutic drugs presented by the School of Optometry and Vision Science, UNSW Australia, and orthokeratology led by Margaret Lam of the Cornea and Contact Lens Society of Australia.
The institute showcased its latest research, and exhibitors included CooperVision, AFT Pharmaceuticals and ArtMost.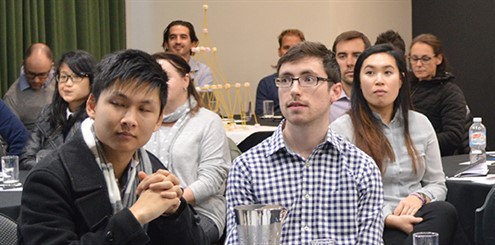 New graduates at the Luxottica induction in Melbourne
Graduates attend Luxottica induction
Twenty-one optometry graduates from Deakin and Flinders universities commencing employment with Luxottica took part in a two-day induction in Melbourne on 1-2 August.
Optometry Australia CEO Genevieve Quilty addressed the graduates who also heard from inspirational optometrists including Shannon Peckham and sports vision optometrist and Olympian Dr Phoebe Stanley, and Luxottica president Anthea Muir.
Luxottica's director of eyecare and community Peter Murphy said the group participated in workshops on Medicare, billing, legal obligations, customer service, communication and technology.
Ocular drugs among five most costly to government
Two ocular drugs are listed in the top five drugs ranked by cost to the Australian government.
Aflibercept and ranibizumab are listed third and fourth, respectively, in the top 10 subsidised drugs for the year to June 2015.
The cost to government for aflibercept (Eylea) was $192 million with more than 123,000 prescriptions, and $179 million for ranibizumab (Lucentis) with more than 116,000 prescriptions.
The list was published in Australian Prescriber. It says the figures are based on Pharmaceutical Benefits Scheme and Repatriation Pharmaceutical Benefits Scheme prescriptions from the date of supply, and do not include private prescriptions under the co-payment.
ACBO announces new president, board
The Australasian College of Behavioural Optometrists (ACBO) elected its new board at its annual general meeting in Sydney on 23 July.
The new board comprises Stephen Leslie (president), Bryan Fuller (vice president), Orlando Pezzimenti (treasurer), Kevin O'Brien (secretary), Michael Smith (committee member), Melanie Imlach (member representative) and Paul Levi (immediate past president).
Former president Bernie Eastwood has stepped down from the board after serving a one-year term from 1 July 2015, citing work commitments associated with the opening of her new Perth practice in August 2016.
Health Minister to open Silmo Sydney
New South Wales Health Minister Jillian Skinner will open the inaugural Silmo Sydney trade exhibition on 10 March 2017.
Super Sunday, the flagship educational conference of Optometry NSW/ACT, will be held on 12 March immediately following Silmo Sydney on 9-11 March.
Both events will take place at the International Convention Centre Sydney in Darling Harbour.
Optometry NSW/ACT CEO Andrew McKinnon said that Ms Skinner's commitment to attend the official opening clearly demonstrated the state government's commitment to supporting the eye-care sector.
Global myopia survey results to be revealed
Delegates at BCLA Asia in September 2016 will be presented with the findings of a global survey into myopia management.
More than 1,000 eye-care practitioners were asked for their views on the increasing rates of myopia in children, their most frequently prescribed myopia management strategies and their relative effectiveness.
According to results, two-thirds of practitioners surveyed still consider only conventional glasses or contact lenses for correcting their myopic patients, citing increased cost, lack of convincing information and unpredictable outcome as the main disincentives.
Professor James Wolffsohn will present the survey results at the conference in Hong Kong alongside Professor Pauline Cho and Professor Xie Pei Ying.
Filed in category:
Uncategorised