Read time:

1:30min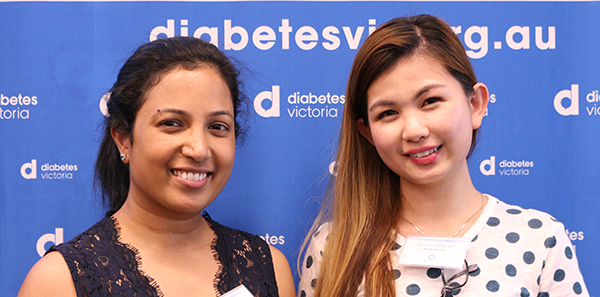 Dr Thilini Thrimawithana (L) and Dr Devy Deliyanti at a World Diabetes Day ceremony to announce the grants   Photo: Diabetes Victoria
______________________________
By Helen Carter
Journalist
Research in Melbourne on new treatments for diabetic retinopathy will receive funding that was announced on World Diabetes Day.
RMIT pharmacy lecturer and pharmacist Dr Thilini Thrimawithana will receive $43,580 for her research team to look into a new strategy for managing diabetic retinopathy, evaluating somatostatin formulations. The researchers aim to develop a treatment to be used in diabetic retinopathy at earlier stages than existing treatments.
Monash University Research Fellow Dr Devy Deliyanti from the Diabetic Retinopathy Laboratory in the university's Diabetes Department will receive $57,900 for her research into modulating diet and the immune system to treat diabetic retinopathy.
They were among 52 recipients who will receive a combined $3.6 million in funding under the 2018 Diabetes Australia Research Program (DARP). A record 27 Victorian diabetes research projects were selected for funding under the program and Diabetes Victoria will contribute $1.4 million to these projects.
The Victorian funding announcements were made an at award function in Melbourne on 14 November, World Diabetes Day.
Dr Thrimawithana said somatostatin, a broadly inhibitory endogenous peptide produced naturally by the body, protected retinal cells and stopped growth of new blood vessels in the eye, which occurs in diabetic retinopathy.
'Previous research shows that people with diabetes have lower levels of somatostatin in the eye compared to people without diabetes,' she told Optometry Australia. 'My team has been looking at strategies to increase stability and efficacy of this peptide when administered to the eye.
'These injections would not be administered into the vitreous as anti-VEGF injections are, but would be administered as peri-ocular injections avoiding the invasive nature of current treatment strategies.
'The therapy would also be for earlier stage diabetic retinopathy compared with existing treatment which is for later stage diabetic retinopathy. We think the natural peptide will be more efficacious,' she said.
'Somatostatin is known to have neuroprotective, anti-proliferative and anti-angiogenic actions in the retina.
'We hypothesise that endogenous somatostatin is a potential drug candidate for managing early stages of diabetic retinopathy if an effective drug delivery system can be developed. This project aims to evaluate the ocular toxicity and efficacy of somatostatin formulations we are developing.' 
 The grant will enable Dr Thrimawithana's PhD student Uma Rai to extend her research in this area. Investigators are Dr Thrimawithana, Celine Valery, Simon Young, Narin Osman and Leslie Yeo.
Vascular leakage
Dr Deliyanti told Optometry Australia: 'My project aims to evaluate if boosting the immunosuppressive capacity of regulatory T cells (Tregs) improves retinal disease caused by diabetes.'
She is using dietary, pharmacotherapy and cell therapy interventions to try to boost the immune suppressive capacity of regulatory T cells. 'The aim is to see if this can increase Tregs in the eye and prevent vascular leakage,' she said.
The research will build on her earlier research published in Nature Communications this year.
Dr Deliyanti is the chief investigator for the grant and works under Professor Jennifer Wilkinson-Berka who is her mentor and will guide her in the process of completing the project aims.
DARP provides funding support for research into the prevention, management and cure for diabetes and fosters young and upcoming diabetes researchers. Each year, outstanding research projects are selected through a national, competitive, peer review process.
'This means that in this new national funding round, more than half of all funded DARP projects have been awarded to Victorian researchers, highlighting Victoria's brilliant reputation for world-class medical research,' Diabetes Victoria CEO Craig Bennett said in a media release.
In Australia, about 1.7 million people are living with diabetes and a further 299 develop diabetes every day.
Filed in category:
Uncategorised