Read time:

1:30min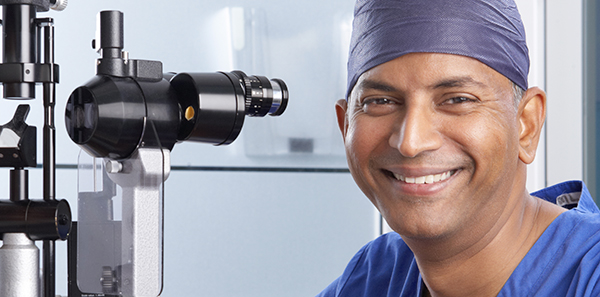 Professor Chandra Bala
______________________________
By Helen Carter
Journalist
World first laser surgery
A Sydney ophthalmologist has achieved a world first by using a cataract surgery laser to remove artificial lenses following cataract surgery complications.
Associate Professor Chandra Bala from PersonalEYES has used the femtosecond laser on four patients this year. One had a retinal detachment several years after successful cataract surgery, a second had a traumatised lens and two others had pacified lenses.
He said scissors were usually used to remove the intraocular lenses, which are much harder than natural lenses, but the laser removal reduced patient trauma and recovery time.
'Complications with cataracts are relatively low, but we know that this particular lens that we removed from the patients' eyes can sometimes be troublesome. By sharing this breakthrough in non-invasive laser surgery, it will help other surgeons all around the world to safely manoeuvre these situations,' Professor Bala told Australian Optometry.
'It was so important to get the advance in the journal, to give other eye doctors a manual on how to perform this surgery.'
His discovery was featured on the cover of the Journal of Cataract & Refractive Surgery.
Tool for anterior chamber
Melbourne ophthalmologist Associate Professor Ehud Zamir has developed a smart, free tool to measure anterior chamber depth and assess eyes for shallow anterior chambers, which are a risk factor for primary angle closure glaucoma.
Professor Zamir, from the Centre for Eye Research Australia and the Royal Victorian Eye and Ear Hospital, said all that was needed were a patient, a smartphone, and the ability to assess and measure the photo produced.
The tool assesses for deep, shallow and very shallow anterior chambers.
Read a journal report on the tool.
See also a brief manual and standard photo set
Eye-drop for bleeding eye
Professor Chandra Bala also developed last year an eye-drop to correct a bleeding eye in a patient who had corneal blood staining after a complication, turning the cornea completely opaque.
Patients with this condition usually need a corneal transplant. 'We were able to develop an eye-drop based on an iron soaking drug used for treatment during blood transfusions which deposit too much iron into the body. The patient applied this eye-drop over the course of eight months and was able to fully recover without the need for a corneal transplant,' he said.
'Complications with corneas are rare, but if I am able to eliminate the need for transplants with a non-invasive eye-drop, then I want to share it freely with other doctors in order to help patients. This is a simple treatment that any doctor will be able to recreate and use on their patients to treat corneal blood staining.'
Professor Bala is conducting four trials on other ways to use lasers in eye care, most of which are funded through PersonalEYES.
Filed in category:
Uncategorised