Read time:

1:30min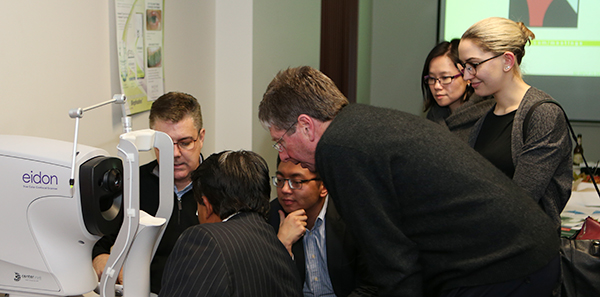 Guests at the opening of OptiMed's new Victorian premises
______________________________
By Rhiannon Riches
Assistant Editor
OptiMed opens showroom in Melbourne
About 40 guests attended the opening of OptiMed's new showroom in Coburg, in Melbourne's north, on 17 August.
With OptiMed's head office in Lane Cove West, Sydney, the Melbourne showroom will expand the company's operations in Victoria. OptiMed supplies dispensing and clinical equipment, as well as surgical and dry eye products.
Margaret Squires from Traralgon won a $1,000 OptiMed gift voucher for best photograph of an OptiMed product. Runner-up Laura Carson from Leverett and Kindler Optometrists in Greensborough received a gift pack of OptiMed dry eye products.
The company's area manager Ellamae O'Reilly said the evening enabled guests to visit the new showroom and socialise with OptiMed staff members. 'The new showroom will allow our customers to drop by at their convenience to look at all the products we have on display,' she said.
The showroom is open by appointment with Ellamae on 0412 686 598.
Store-bought specs preferred to those purchased online
A study has found that glasses-wearers prefer spectacles bought from optometry practices to those bought online, despite lens quality and prescription accuracy being similar.
The study's authors reported in 'A comparison of spectacles purchased online and in UK optometry practice', published in Optometry and Vision Science, that the study involved 33 spectacle-wearing participants.
They noted that a greater number of online spectacles were deemed unsafe or unacceptable because of poor spectacle frame fit, poor cosmetic appearance and inaccurate optical centration.
Damaged cornea cells shed in tears
Australian researchers have discovered new information about how the cornea responds to damage.
They found damaged cells in the centre of the cornea are shed into the tear fluid. New cells are then made at the edge of the cornea and migrate to the centre to replace the shed cells.
The research, led by Dr Guy Lyons at Sydney's Centenary Institute, was published on 17 August in Nature Communications.
'We also found that very low levels of UV, similar to what would be experienced from spending a few hours outdoors in sunlight, are sufficient to damage the corneal cells,' Dr Lyons said in a media release. He stressed the importance of wearing sunglasses, preferably wrap-around, when outdoors.
Sunglasses safety standards questioned
UV filters in sunglasses should be tested more rigorously for longer-term safety, according to a Brazilian study showing that the current test is unrealistic, especially for people in Australia and New Zealand.
The test looks at how sunglasses deteriorate in sunlight by exposing them to a 450 W lamp for 50 hours at 30 centimetres. Researchers say the glasses should be tested for 134 hours at a distance of five centimetres to assess quality and establish safe limits for lenses' UV filters.
Standards, including Brazilian and Australian/New Zealand standards, require that sunglasses provide levels of UV protection linked to luminous transmittance which decides the category of lenses.
The ageing test, used in Europe, Brazil, New Zealand and Australia, calculates the extent to which the category deteriorates from sun exposure. Sun exposure makes lenses lighter and more shatterproof.
Researchers said in Biomedical Engineering Online that lenses should provide adequate UV filters because insufficient protection could lead to pathological modifications to the cornea and the internal structure of the eye.
Essilor continues to be innovative
Forbes has named Essilor as one of the world's 100 most innovative companies for the sixth consecutive year.
The list recognises publicly traded companies that have been identified by investors as being innovative now and in the future.
Essilor's research and development efforts are focused in presbyopia, myopia, well-being and visual health, sun, polarised and photochromic lenses, and development of innovative services for online sales and inclusive business models.
Medicines only partially benefiting occasional users
Those who use medicines occasionally, including prescription, over-the-counter or complementary medicines, are potentially not getting the full benefits compared with those who take medicines more often.
These are the findings of a survey of 1,007 Australians conducted by Galaxy Research in July and August this year.
According to NPS Medicinewise , the survey showed that people who take medicines less often or who take fewer medicines are more likely to stop a course of medicine early without speaking to the health professional who prescribed or recommended the medicine to them, and less likely to follow instructions relating to their medicines.
More than one in three people surveyed stopped their course of medicine early, with 18-34 year-olds more likely to have stopped a medicine early without first speaking to the health professional who prescribed or recommended the medicine to them.
Almost one quarter of people aged 18-24 and 25-34 don't always take their medicines as instructed, compared with 17 per cent of 35-49 year-olds, 10 per cent of 60-64 year-olds and three per cent of those aged older than 65 years.
The results were released for Be Medicinewise Week, on 22-28 August. The campaign encourages medicine users to ask the right questions, ask the right people, and follow the right advice about medicines.
Filed in category:
Uncategorised