Read time:

1:30min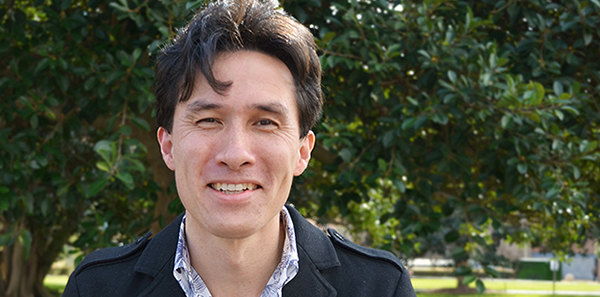 Juno Kim
______________________________
By Philip Ritchie
Journalist
An Australian optometrist has won a place in the top 10 Best Illusions of the Year Contest for his work on the material inversion effect, which shows how object materials are perceived differently, based on their rotation: upright or upside down.
Each year, contestants world-wide submit novel illusions to celebrate how imagery mismatches with reality.
Juno Kim, a senior research fellow at UNSW's School of Optometry and Vision Science, says he came up with the illusion after spotting a picture of Lucy Humphrey's horizon exhibit, Sculpture by the Sea.
'I looked at it and instantly I thought about how refractive and transparent the object looked. Then I asked myself the question, why does it look transparent?' Mr Kim said.
'I got pretty excited about it and put in an order for a glass crystal ball. I noticed that you get this inversion of the surrounding world. That's how the lens of an eye works.'
Crystal balls and other transparent ball-shaped objects rotate light so the sky appears at the bottom and the ground sits at the top. Mirrors, on the other hand, reflect the world as it's actually oriented.
'I was looking at glass and things that have different types of refractive indices … things like what my colleagues were essentially playing with down the corridor,' Mr Kim said.
Using crown glass, which is a low-reflective glass, Mr Kim took a lumpy-shaped computer image and rendered it. With the bright section flipped so it's positioned at the top of the object, the transparent object appears reflective, almost glossy.
Mr Kim explains that his illusion is inverting the structure of light fields, so with the image turned upside down, it tricks the viewer into thinking it's something it's not.
'That distorted image structure tells us what we're looking at is like liquid metal, like when you're watching Terminator 2.'
Mr Kim originally created the illusion as part of a 2016 study, co-authored with Philip Marlow from the University of Sydney, called Turning the World Upside Down to Understand Perceived Transparency, which looks at how mirrored and refractive objects, both of which create distorted images, are difficult to distinguish from one another and sometimes appear as completely different materials.
'Because I come from a psychology background … I always come back to these roots of individual differences and tying it into psychological phenomena,' he said. 'We asked the question, does this cause people to see or misperceive it as reflective as opposed to refractive?'
To make the top 10, contestants first submit an email to the Best Illusion of the Year Contest. Following initial screening, a panel of five judges then chooses the 10 best at a gala presentation, based on the quality of the illusion, before conducting a 24-hour public vote to decide the winner.
Not everyone looking at the illusion has been tricked into seeing metal; many commenters still see transparent glass. Mr Kim says that's how most illusions are.
'People like to create effects and only present effects that are so compelling that everyone can get them, and if there's a few people that can't get the effect then it must be a bad demo.
'In this case, I was actually curious to see, on a more global scale, how many people actually saw the effect. It seems like there's probably quite a lot.'
Filed in category:
Uncategorised