Read time:

1:30min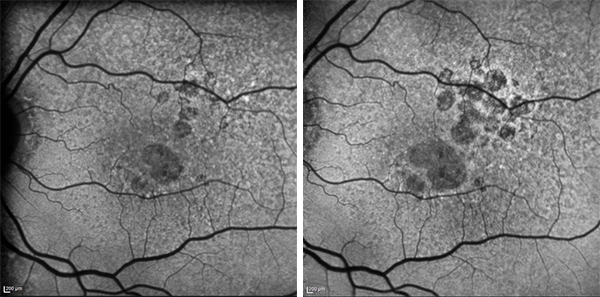 Growth of geographic atrophy as seen over two years on fundus autofluorescent imaging (not a patient in the trial)   Image: Professor Robyn Guymer, CERA
______________________________
By Helen Carter
Journalist
The world's first treatment for dry age-related macular degeneration could be on the horizon after a trial, which included Australian patients, found a drug slowed progression of the condition.
After 12 months of treatment, the drug slowed the rate of degeneration by almost half.
If Australia takes part in the next stage of the trial, researchers will be appealing to optometrists to refer patients.
Dry AMD, also called geographic atrophy or GA, is one of two forms of late AMD. About 71,000 Australians have GA, according to a Macular Disease Foundation Australia 2016 research update.
Principal investigator, ophthalmologist Professor Robyn Guymer from the Centre for Eye Research Australia and the University of Melbourne, said she was delighted with results.
'We've had treatments for neovascular or wet AMD for 10 years and these drugs have more than halved the blindness rate in wet AMD,' Professor Guymer told Optometry Australia. 'Now we are directing our attention to treating the other irreversible late complication of AMD, dry AMD or GA.
'For nearly 20 years I've seen patients with geographic atrophy in the clinic and apart from monitoring their vision loss over the years, there was nothing we could do for them. Now we finally have the possibility of treatment on the horizon.' 
The phase two clinical trial, known as the FILLY trial, was in patients with GA associated with AMD. Sponsored by Apellis Pharmaceuticals, it included 246 patients in 40 international testing sites in Melbourne, Sydney, Perth, Hobart and Launceston, America and New Zealand.
The Australian sites were CERA; Marsden Eye Specialists, Parramatta; Save Sight Institute, Sydney; Sydney Retina Clinic and Day Surgery; Sydney West Retina, Westmead; Hobart Eye Surgeons; Tasmanian Eye Institute, Launceston; and Lions Eye Institute, WA.
Reduced lesion growth
Apellis Pharmaceuticals developed the compound, APL-2, a complement C3 inhibitor, which acts to inhibit the complement activation involved in inflammation related to AMD.
Patients received intravitreal injection in the study eye monthly or every other month for 12 months, followed by six months of monitoring after the end of treatment.
Apellis reported that treatment resulted in a reduction in GA lesion growth of 29 per cent for those receiving monthly injections, and 20 per cent for patients receiving them every second month, compared with control patients. This translated to 'statistically significant slowing of disease progression seen at 12 months.'
Professor Guymer told Optometry Australia: 'There was a 29 per cent slowing in rate between treated and sham and this is significant. The slowing was 20 per cent when given every other month. The trial looked at the rate of growth of patches of GA so it may not have altered visual acuity; it was just looking to slow the rate at which cell loss occurs once a person has established GA.'
Additionally, a post hoc analysis found a greater effect was observed during the second six months of treatment, with a reduction in the GA lesion growth rate of 47 per cent with monthly injection, and a reduction of 33 per cent with treatment administration every other month.
Professor Guymer said if all continued to look good, it would be at least several years before a drug was on the market.
Delivery mode
'Currently it is via intravitreal injections, but logistically this will present a whole new level of issues as there will be a lot of people needing injections for a long time so I think we will have to look at how we deliver this care,' she told Optometry Australia.
The most frequently reported adverse events were associated in the study eye with the injection procedure. A higher incidence of exudative AMD was observed in treatment groups, mainly in those with a history of exudative AMD in the fellow eye, and was managed with the administration of standard therapies.
'We are very excited about the results of this study,' Apellis CEO and founder, Dr Cedric Francois said in a media release. 'In addition to demonstrating a statistically significant slowing of disease over 12 months, APL-2's effect appears to increase in the second six months of the study, slowing down the rate of degeneration by almost half.'
Professor Guymer said in a media release: 'In the past decade, we have made tremendous advances in treating one of the late complications of AMD which is called wet AMD, where blood vessels leak in the back of the eye and destroy vision rapidly. Dry AMD is like having moth-eaten holes in your vision and they slowly all join up in the middle part of the vision, destroying the ability to read, drive and recognise faces.'
In dry AMD, the cells in the retina die slowly over many years, eventually leading to irreversible loss of vision. A chronic, progressive condition, it leads to central blind spots and permanent loss of vision and there are currently no approved treatments for GA.
Dry AMD insidious
Professor Guymer told Optometry Australia: 'In geographic atrophy vision loss is very slow. With wet AMD people can lose vision within weeks after turning up at a hospital emergency department with a haemorrhage in their retina.
'Dry AMD is more insidious because people are not sure they have anything wrong and vision loss sneaks up until it's almost too late. Central vision can be good until the end yet reading can be very difficult due to the missing pieces of words or numbers. It's slow because cells drop out little by little over a long period of time.'
Dr David Boyer from Retina-Vitreous Associates Medical Group said in the media release that Apellis planned to move forward with phase three studies as soon as possible.
'These results are very exciting for all people afflicted with dry AMD with geographic atrophy,' he said. 'It is currently an untreatable condition, and the reduction of the progression of atrophy in this trial offers new hope for vision maintenance for our patients.'
Patients needed
Professor Guymer said CERA hoped to be involved in this phase three study as well as other GA studies.
'We should start to identify now, people with bilateral GA so we are ready to respond to new trials. 'Individuals can go directly to CERA's trial registry on its website called "websight" found at www.cera.org.au and register their interest and information about their disease status,' she said.
'We would also very much look forward to any referrals from optometrists of interested people with GA and we will phenotype them and when the inclusion criteria are known for specific trials we will get in touch with the people already on our registry. We will also let our optometry colleagues know the inclusion criteria.'
With patient permission, optometrists can send details of patients with bilateral GA, retinal diagnosis and scans or images to cera-trials@unimelb.edu.au or post them to Professor Robyn Guymer, CERA Clinical Trials Research Centre, Level 7, 32 Gisborne Street, East Melbourne VIC 3002 or register their details.
Filed in category:
Uncategorised