Read time:

1:30min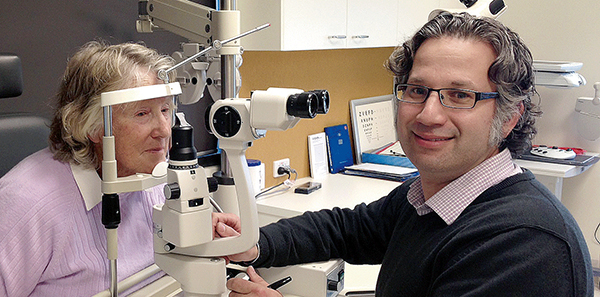 Lee Baumwol
______________________________
By Rhiannon Riches
Assistant Editor
A new protocol introduced at the Royal Hobart Hospital is referring patients with diabetes to optometrists for diabetic retinopathy screenings to ease hospital overload.
Optometrist and Optometry Tasmania board member Lee Baumwol is working in the eye clinic at the Royal Hobart Hospital (RHH).
'Optometry has a long involvement at the public hospital eye clinic in Hobart, the Royal Hobart Hospital, both in general clinic and low vision,' Mr Baumwol said.
'Last year, the hospital developed a new protocol to allow for services to be delivered to patients more efficiently. These changes were instituted by the head of clinic, Dr Nitin Verma, and Micheal Knipe, who runs the optometry clinic at the hospital.'
He said the RHH was seeing many patients with diabetes who were at low risk of vision loss in the short to medium term, with no or mild retinopathy.
'As per other states, there are long waiting lists to see ophthalmologists in the public system and then again for procedures. As we know, optometrists are trained to examine for diabetic eye disease and to refer to ophthalmology where appropriate. However, many patients were getting referred to the hospital and bypassing optometrists in the community,' Mr Baumwol said.
'A new protocol was set up and communicated to GPs and optometrists in Southern Tasmania. All newly-diagnosed patients with types 1 and 2 diabetes and those previously diagnosed who require eye exams must be directed to optometrists in the community for eye exams.
'A list of optometrists prepared to be involved in the program and bulk bill these patients was surveyed. The optometrist would then examine and refer to the hospital if there was retinopathy of concern or any concern regarding diabetic macular oedema,' he said.
'Optometry has also become more involved in seeing patients with diabetes at the eye clinics, and a dedicated diabetes eye clinic was set up, with optometrists working in a collaborative environment with ophthalmologists and nurses.
'This also has involved discharging patients with no or mild retinopathy to optometrists in the community for ongoing care so that those with macular oedema or more significant retinopathy can be seen in a more timely manner to help prevent avoidable adverse outcomes.
'Key to this is to ensure clear communication with the patient, their GP, endocrinologist where applicable, and their optometrist where they have one so that we don't have people lost to follow-up.
'Those at greater need of ophthalmologic care now have reduced waiting times and complete eye exams, rather than a screening exam with photography which was in turn remotely viewed by an ophthalmologist, ensuring that anterior eye conditions are detected as well,' Mr Baumwol said.
Filed in category:
Uncategorised