Read time:

1:30min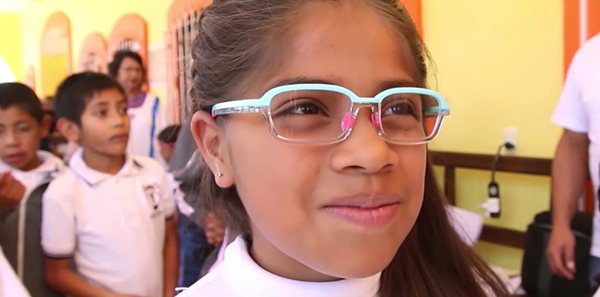 Alyssa
______________________________
By Jane Body
Optometry Giving Sight
An eye examination and a simple pair of spectacles is all that stands between millions of children with vision impairment, and all the opportunity that comes with clear sight.
Children need healthy eyes and vision to develop and thrive. Vision impairment is a barrier children can face when trying to access an education, the flow-on effects of which are significant.
Estimates show that by 2050, half the world's population will be myopic and the cost to the global economy from vision impairment will be US$202 billion annually.
These figures speak volumes about the educational and economic productivity that will be lost without increased access to better eye health. If we can reach children while their eyes are developing, we can slow and even reverse this trend.
Our Children's Vision, a global campaign supported by Optometry Giving Sight, has set an initial goal to provide eye-care services to 50 million children by 2020. By building strong partnerships, together we will be able to support the development of local organisations and communities, making this an achievable goal with sustainable and effective outcomes.
When we look to how eye care can influence development, we turn to the Global Goals for Sustainable Development. A number of the global goals, particularly Goal #1, Quality Education and Goal #3, No Poverty, are not achievable without increased access to eye care.
The World Health Organization says that restoring someone's sight is the single most cost-effective health intervention in reducing poverty. Ninety per cent of children with low vision who live in developing countries are deprived of schooling.1 While this statistic may be overwhelming, it is not surprising when 80 per cent of what children learn is processed through sight.
An eye examination and a simple pair of glasses can change all this. When children, particularly girls, are educated, they tend to be healthier, participate more in the labour market, earn higher incomes and enable better health care and education for their own children in the future.
Alyssa, a young girl from Mexico has felt the benefits of Our Children's Vision. On receiving her new glasses she said: 'Nothing can stop me now.'
We ask optometrists to support Optometry Giving Sight, as we continue to provide funding for eye examinations and spectacles to children like Alyssa. We are contributing to Our Children's Vision and its goal of providing vision for every child, everywhere.
Join us by:
making a small donation for every pair of frames sold over the next two months
inviting patients to donate $5 by texting 'EYES' to 0437 371 371.
Companies are also invited to engage their staff in making a donation or call us to discuss other opportunities.
Register today. For information contact us at australia@givingsight.org or on 1300 88 10 73
Optometry Giving Sight is the only global fundraising organisation that specifically targets the prevention of blindness and impaired vision due to uncorrected refractive error.
1. International Agency for the Prevention of Blindness. Blindness Poverty and Development. The Impact of Vision 2020 on the U.N Millennium Development Goals. http://www.seva.ca/files/blindness_poverty.pdf
Filed in category:
Uncategorised