Read time:

1:30min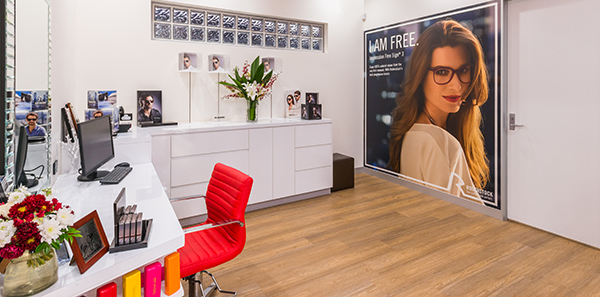 Zeinab Khalil's Morningside practice
______________________________
By Rhiannon Riches
Assistant Editor
Optometrist Zeinab Khalil is the first practice owner in Australia to partner with Rodenstock to rebrand her Brisbane business, Eyedeal Optometrists.
She reopened in the first week of June, after relocating and fitting out new premises to include a Rodenstock-branded store within a store.
Rodenstock general manager Australia Tim McCann said it was a huge investment for Ms Khalil.
'Rodenstock has similar stores in Europe and Asia but this is the first of its kind in Australia. Eyedeal Optometrists is wholly owned by Ms Khalil and her business partner. She is the primary optometrist and they employ another optometrist, Emma Markwell,' Mr McCann said.
'Rodenstock is a sub-brand in the store; it's a shop in a shop. Our shared aim was to lift the eyewear and merchandise with Rodenstock frames and lenses, and we're showcasing how we support independent optometrists.'
Ms Khalil opened her own practice in 2006 in a newly-built shopping centre in Morningside, strengthening the patient base year on year. This year she relocated the practice one block from the shopping centre.
'We owned the land, which had a house on it. We demolished the house and built new premises for the practice and retained our patient base,' she said.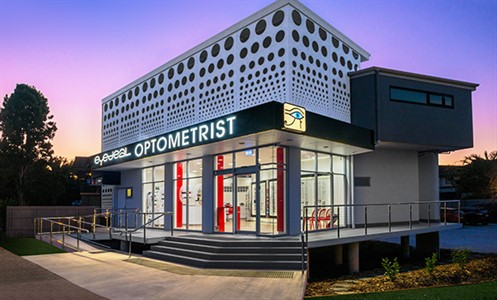 Emma Markwell joined the practice in February, a few months before the practice moved.
'The move was three years in the making. It took a lot of time to find the right architect and builder,' Ms Khalil said.
'We started discussions with Rodenstock this year. We wanted something new. Our main objective was to remain independent, and while Rodenstock is involved, we retain control of the business,' she said.
'The Rodenstock business model is another option to consider alongside existing franchise models, if you are an independent optometrist, and an alternative to operating in a shopping centre, where rent can be expensive.
'We wanted our suppliers to have the same values and philosophy as our own business. The Rodenstock team, including Tim McCann, Senta Smak, Niki Peaper and Colette Kinsella, has been very enthusiastic and supportive throughout the whole process,' Ms Khalil said.
'Senta and Tim were an integral part of our decision-making, understanding our design needs, staff training and patient flow through the practice, and future direction of the practice.
'Colette has been instrumental in sorting out our stock level, helping us keep our stock fresh. With her help we did a stock analysis to see the age of stock and introduced a plan to reduce and sell the old stock.
'Rodenstock has a wide range of frames including Rodenstock, Rocco by Rodenstock, Porsche Design, Mercedes Benz Style and Jil Sander.
'Good old-fashioned customer service is extremely important for the survival of any business, whether we are on the giving end or the receiving end. Rodenstock does that really well and it also has the best after-sales warranty and service for the entire product,' Ms Khalil said.
Mr McCann said that because independent optometrists partner with their preferred supplier, and optometrists communicate with the patients, they are effectively the vital link in the merchandising model, and the Rodenstock-branded 'store within a store' supports that link.
'Eyedeal Optometrists was an existing practice in Brisbane but the new practice has been a complete new build. It's a double-height building on the main road into Brisbane,' Mr McCann said.
Part of the building's exterior replicates the Snellen chart, with large circles decreasing in size.
Rodenstock plans to open more practices with the 'store within a store' business model. 'We're ready to recreate this for other independent optometrists,' Mr McCann said.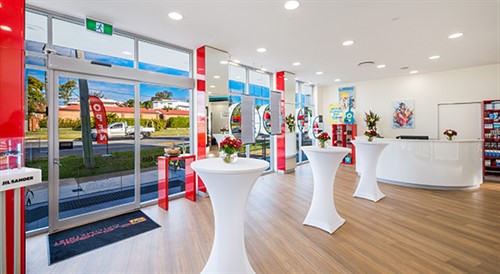 Ms Khalil moved to Australia from Lebanon at 14 years of age. She didn't speak English and spent a year learning the language before starting Year 9 at Balmoral State High School in Morningside. She has remained a local.
She completed a degree in medical science and then her Masters. When career options didn't meet her expectations, she returned to university to complete an undergraduate degree in optometry.
'After graduating in optometry I locumed in Brisbane. I had twins in my final year studying optometry and locuming was flexible, allowing me to manage motherhood and work,' she said.
Ms Khalil and Ms Markwell are members of Optometry QLD/NT.
Filed in category:
Uncategorised