Read time:

1:30min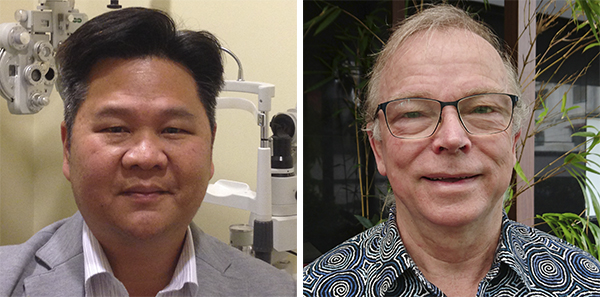 Wilfred Tang (L) and Rodney Hodge
­­­­­­­­­­­­­­­­­­­­­­­­­­­­­­______________________________
By Helen Carter
Journalist
In the second of a three-part series on seven optometrists who have collectively chalked up 142 years of dedicated service to Perth hospitals, we look at Wilfred Tang and Rodney Hodge.
Kevin Adams, Karyn Campion, Graham Fist, Rodney Hodge, Mei Kok, Ian Sim and Wilfred Tang have helped thousands of patients during their combined contribution. Their hospital service, which ranges from 21 months to 59 years, has shown the public and hospital patients and staff the valuable contribution that optometrists can make to public health. All are still working in the public hospital system.
PART 2. Sir Charles Gairdner Hospital 
WILFRED TANG
At the large Sir Charles Gairdner Hospital in Perth, Rodney Hodge and Dr Wilfred Tang job-share the optometry role in the outpatient ophthalmology clinic. People are referred with red eye, cataract, retinal detachment, glaucoma and keratoconus.
Dr Tang worked in the optometry field for 20 years before joining the clinic team six years ago. He works there Mondays and Tuesdays, while Mr Hodge does Wednesdays and Thursdays.
Dr Tang also works three days at a Specsavers practice.
'It's a team care approach at the clinic and the patients see ophthalmologists before and after us so we aren't seeing them in isolation,' he said.
'We do OCTs pre- and post-cataract surgery, refraction after surgery, corneal topography and refraction for keratoconus, pre- and post-surgery OCTs and refractions for retinal detachment, and visual fields and optic nerve scans in glaucoma patients.
'There is always a lot of learning in the tertiary setting.
'Hospital patients are often very unwell and may have cancer, advanced diabetes or emphysema, for example. It's a steep learning curve, and in hospital there are a lot of tertiary cross referrals such as stroke patients with vision problems from the neurology unit.
'We see the full gamut. The cases are particularly challenging but we make a difference to these patients every day,' Dr Tang said.
'We are always busy and there is a constant stream of patients with wet AMD, diabetic macular oedema and retinal cases. There has been an increase in these cases with the ageing of the population.'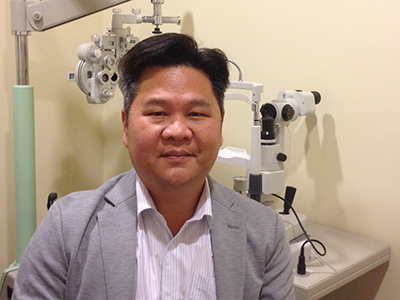 Wilfred Tang
RODNEY HODGE 
Rodney Hodge locums and has worked part-time at Sir Charles Gairdner Hospital for 23 years.
'I always wanted to work in public health then the opportunity came along to be the first optometrist at the hospital,' he said. 'I enjoy it. There are some challenges, especially the workload which is always going up. We are very busy and see 35 to 40 patients in a four-hour stint, but it is good fun and there are some interesting cases.
'We make a huge difference. More optometrists should be involved in public health, especially in rural areas and telemedicine. There are many opportunities to do things for communities.'
PART 1. Ian Sim, Mei Kok and Graham Fist from Royal Perth Hospital 
PART 3. Karyn Campion and Kevin Adams from Fremantle Hospital
Filed in category:
Uncategorised