Read time:

1:30min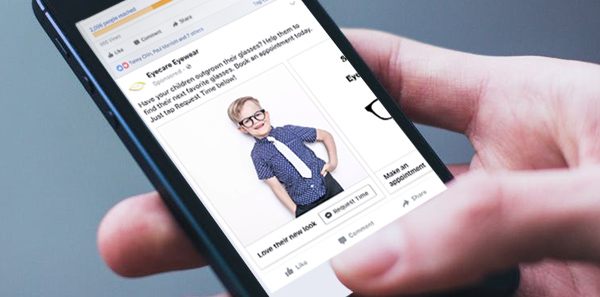 By Leigh Plowman
Optometrist, blogger, digital marketer at Optomly
Facebook Ads help you to power your practice growth. They are highly targeted, inexpensive and easy to turn on or off.
Increasingly, your potential patients are spending time on Facebook. When Facebook Ads are done well, they can return several times more than you invested. Tweak your Ads, do more of the things that work best and enjoy seeing the fruits of your efforts.
What are Bad Ads?
Bad Ads on Facebook usually follow an error formula: wrong audience, wrong message/text/image, wrong stage (that is, too early in the process).
Wrong audience: targeting everyone in your area with a single Facebook Ad is unlikely to drive new appointments. Tailor your Ad to one specific group and watch it resonate with them.
Wrong message: writing solely about your practice, without relating it to your patients, is likely to turn potential patients off. Take on the role of their 'guide', be their helper for their journey and they'll readily take your advice.
Wrong stage: a patient who isn't aware of their eye problem needs to be communicated to differently from those who are aware.
Others errors are:
Poor quality image: your image needs to capture attention so that it stops someone scrolling in their News Feed. Choose an image that produces emotion, such as a smile, humour, beauty.
Too much text: your image should not include lots of overlying text. Facebook prefers images that have the least amount of text possible. You'll benefit by having a less expensive Ad.
What are Good Ads?
Images: good Facebook Ads vary images according to the stage at which potential patients are. For potential patients who don't know about you, it's better to use images that are more general such as schoolbooks or students. Later, you can create a follow-up Ad that includes pictures of your team, your practice or logo. These are useful for potential patients who already know a little about you. These patients will start to become familiar with your team and your logo, even before they step in the door.
Text: good Facebook Ads use text that is conversational and genuine. Remember that Facebook is personal and your potential patients resonate best when you are genuine and speak like a real person.
How to create an Ad
Facebook Ads are housed in three main silos: Campaign, Ad Set, Ad.
For your Campaign, the most important thing is to set your objective. This usually means website clicks or video views. You can also set your budget (total budget or daily budget) and schedule (ongoing or for a definite period).
Ad Set houses your Ads. These are like categories. For example, one Ad Set may be targeting 40-year-old mothers of primary school students who live within 20 kilometres of your practice. Another may target 40-year-old females who have visited your website.
Lastly, your Ads are the things that are shown. You may use identical Ads in two different Ad Sets and see which gets the most video views or clicks to your website.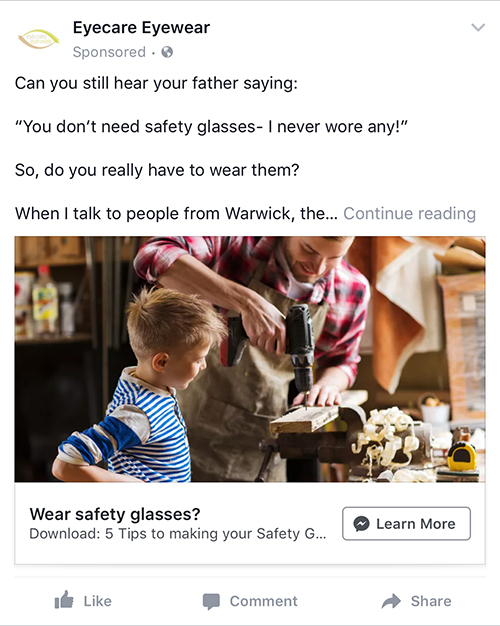 This ad could be used to market to mothers of children and to males working in the construction industry
How do you know what really works on Facebook Ads?
The key to Facebook Ads is to start simply. Choose the defaults for everything. Let the Ads run for a minimum of three days, then see which Ad is performing the best in each Ad Set. Then you can choose to either make the campaign longer or discontinue the Ad that isn't performing best. Then test new Ads and optimise your return on investment.
Part 2: Target your audience with Facebook Ads 
Leigh Plowman's Optomly website
Filed in category:
Uncategorised