Read time:

1:30min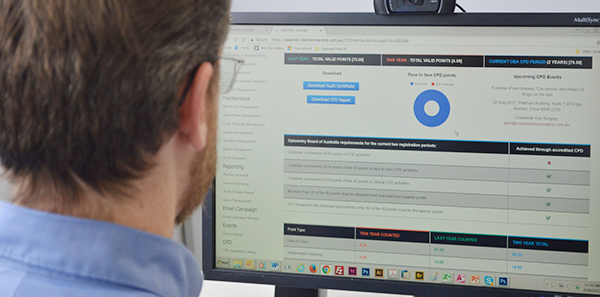 By Helen Carter
Journalist
A major new feature of Optometry Australia's revamped CPD portal allows members to login and immediately print an audit certificate and detailed CPD report for any time period for their accredited CPD activities.
Members can now login to My CPD Record to download their audit certificates and CPD reports.
Going to the Member Login button from the landing page of the Optometry Australia website will take them to the membership dashboard, where they can update details, lodge classifieds, check coming events and now review their enhanced CPD record.
Many members have advised Optometry Australia that they can become confused about meeting the requirements of the Optometry Board of Australia (OBA) CPD standard due to the many different point types and rolling two-year period.
To assist with ensuring members know whether they are meeting the standard, another new highlight is a helpful break-down of CPD points into different types including Face to Face CPD points, therapeutic points, and manufacturer and supplier points.
There is also a graphical representation to indicate if each sub-requirement of the OBA standard has been met.
Easier to use
Optometry Australia professional services manager Luke Arundel says the revamped CPD portal is easier to use, fresher and includes a more interactive interface. 'These new, unique features enhance usability,' he said.
'Optometrists now have the ability to instantly print certificates from any CPD period. This is especially useful during the current audit by the Australian Health Practitioner Regulation Agency (AHPRA).
'Previously, members could not do this themselves as the reports had to be generated manually from our old member database. 
'Optometry Australia staff had to manually key in information to provide certificates to members and during the annual OBA audit of optometrists, when hundreds of requests would come in for certificates at the same time, the process was slower than we would have liked,' Mr Arundel said.
'CPD is audited annually and each year AHPRA randomly audits hundreds of optometrists to check for compliance to regulatory standards.
'Optometry Australia collates and records accredited CPD completed by members. This is a service for optometrists as part of their Optometry Australia membership.
'Being able to provide the auditors one certificate of total accredited CPD completed saves members having to document and provide certificates or proof of attendance for every CPD event completed over the two-year CPD period.
'The changes have made the interface easier for optometrists to ensure they reach the requirements of AHPRA and made the audit process less painful and time-consuming for optometrists,' he said.
The 2017 AHPRA audit concludes tomorrow, 4 August. For assistance click on the AHPRA Audit Help Tile on the Optometry Australia website.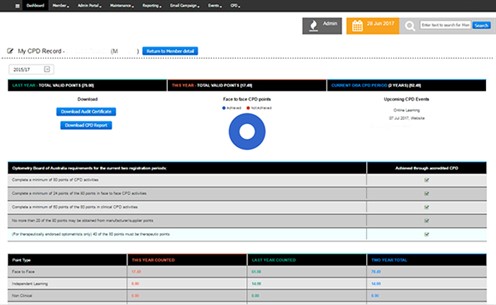 Filed in category:
Uncategorised