Read time:

1:30min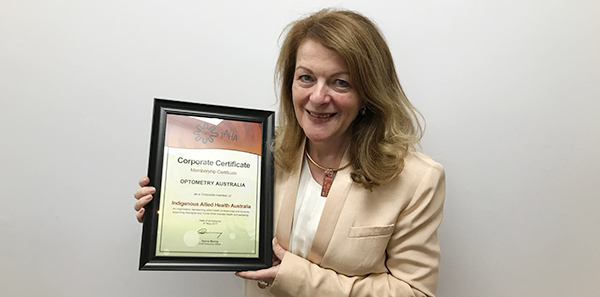 Optometry Australia CEO Lyn Brodie
______________________________
By Ashleigh McMillan
Journalist
Optometry Australia is now a corporate member of Indigenous Allied Health Australia (IAHA), which works to develop the workforce of Aboriginal and Torres Strait Islander people in allied health.
IAHA is involved in lobbying for extending government policy on Indigenous health, and workforce modelling for how federal, state and territory governments and stakeholders fund allied health, particularly in areas with populations of Aboriginal and Torres Strait Islander people.
IAHA has 28 allied health disciplines in its membership.
National policy manager Skye Cappuccio says Optometry Australia has welcomed the chance to become a corporate member of IAHA.
'We strongly support IAHA's vision for Aboriginal and Torres Strait Islander people to have timely access to culturally responsive health care, and its goal of supporting more Aboriginal and Torres Strait Islander allied health professionals,' she said.
'As an organisation, we continue to work to ensure timely access to culturally safe care for Indigenous Australians, on the advice of our Aboriginal and Torres Strait Islander Eye Health Working Group.
'Our ongoing focus is to secure continued government investment in supporting outreach services under the Visiting Optometrists Scheme, which has a significant focus on providing services to Indigenous Australians.
'As a member of Vision 2020 Australia, we are working collaboratively to advance policy which will support better eye health outcomes for Aboriginal and Torres Strait Islander people,' Ms Cappuccio said.
Responsive workforce
IAHA chief executive officer Donna Murray says that an important consideration for practitioners is how they act in a culturally safe and responsive way, and which processes become embedded in the policy of their workplace.
'IAHA is really working on building the cultural responsiveness of the workforce, and that's about how we're building capability of the health workforce across different sectors to work more effectively with Aboriginal and Torres Strait Islander people,' she said.
'In cultural awareness you can gather information about your local context, you can do a range of different things which say you are culturally competent but it's about the action.
'If you're culturally competent, what does that mean when you wake up the next day? What are you going to change and what are you going to think about every time you talk to an Aboriginal and Torres Strait Islander person?
'If we have more Aboriginal and Torres Strait Islander people in the workforce, you're going to create change in the system by having people influence and inform how we address racism, and more voices on how we make decisions on things directly impacting Aboriginal and Torres Strait Islander people,' Ms Murray said.
'It also means better quality care for all Australians, because Aboriginal people bring a really unique cultural and professional lens to their profession. They often follow a more holistic approach to care, considering the social, emotional, spiritual and cultural factors that impact on people's health and wellbeing.'
Optometry Australia is planning a CPD webinar on cultural competency for late 2017, with the intention that IAHA may be able to offer advice on the project. 
Filed in category:
Uncategorised