Read time:

1:30min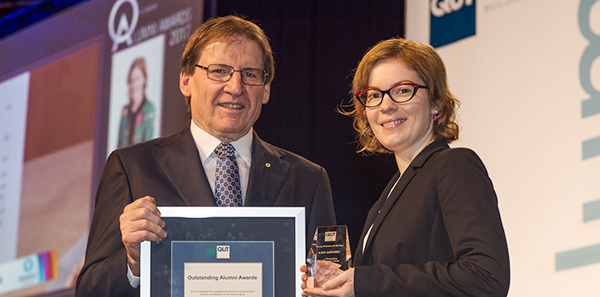 QUT Vice-Chancellor Professor Peter Coaldrake and Kate Gifford   Photo: QUT/Anthony Weate
______________________________
By Ashleigh McMillan
Journalist
Former president of Optometry Australia, Kate Gifford, was named the QUT Young Alumnus of the Year at the Outstanding Alumni Awards in Brisbane on 1 August.
Ms Gifford said she was thrilled to receive the award as it recognised her broad involvement across the clinical, academic, educational and professional leadership aspects of the profession. 
Ms Gifford is completing her PhD at QUT on the optics of contact lenses and eye co-ordination in children and young adults. She expects to graduate at the end of 2017.
'I've always been interested in being a clinician-scientist; translating research into practice for my peers and my patients, and contributing myself to scientific understanding. I published my student project after graduating and keep in constant touch with the literature. 
'A PhD is an unparalleled brain training experience. It develops in you a mindset of critical analysis and knowledge exploration, ensuring I can do my education, clinical research and patient care jobs to the utmost standard,' she said. 
Ms Gifford said that since retiring as president of Optometry Australia, she has had more time in her schedule to focus on developing the Myopia Profile website, which helps clinicians manage myopia, and the My Kids Vision website, which helps parents assess and manage their children's myopia risk.  
'Reducing the progression of myopia is increasingly recognised as a public health issue. It's a hot topic in research and industry, is the next great development in clinical practice and sits entirely with the remit of optometry.
'Full scope myopia management involves spectacle, contact lens, pharmacological, binocular visual and environmental aspects. What else could be more optometry, and bigger impact for the eye health of our future populations?'
'Several months ago, I founded a closed Facebook group called Myopia Profile, which has grown to over 1,700 optometrists from a dozen countries, who are actively engaged in discussions of clinical cases and latest research.'
'I've just started a companion YouTube channel where I'm building a catalogue of myopia musings,' Ms Gifford said. 'With the completion of my Optometry Australia leadership role at the end of 2016 and PhD completion this year, I'm giving my practice and patients a little more love, too.' 
Ms Gifford gained her Bachelor of Applied Science (Optometry) with First Class Honours from QUT in 2003, and completed the Graduate Certificate of Ocular Therapeutics at the university in 2006.
The Outstanding Alumni Awards recognise graduates of QUT who have displayed exceptional professional, academic or research achievements and contributions to the community.
Ms Gifford also received the inaugural British Contact Lens Association President's Award for Contact Lens Excellence in June 2017.
Filed in category:
Uncategorised