Read time:

1:30min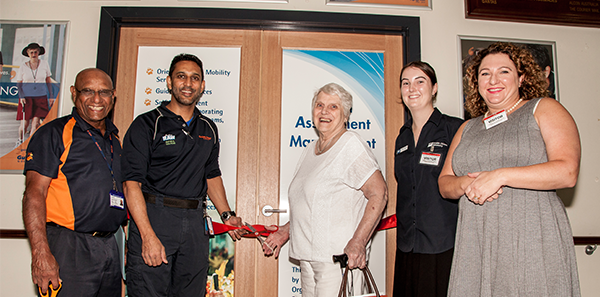 ______________________________
Queensland University of Technology has joined forces with Guide Dogs Queensland to provide a free low vision clinic in Brisbane once a month. The first clinic was held in mid-November.
QUT Health Clinics—Optometry Clinic, located at the Guide Dogs Queensland head office, provides services to vision impaired people, including optometry and mobility assessments for people affected by blindness or low vision.
Dr Stephen Vincent, lecturer in QUT's School of Optometry and Vision Science, said the unique model would provide students from the Optometry Clinic with the opportunity to use their skills in an essential community outreach partnership.
He said the clinic would provide students with valuable real world experience in the assessment and management of blind or vision impaired patients.
'This clinic will complement their clinical training at the Vision Rehabilitation Clinic within the QUT Health Clinics,' he said.
'It will also add another dimension to the wide range of free services provided by Guide Dogs Queensland, which include orientation and mobility training, counselling services and low vision support groups.'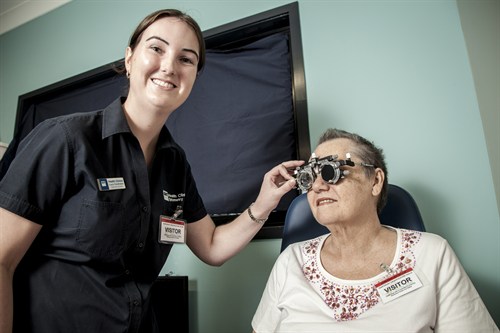 Optometry student Lucy Cochrane and patient Gail Gill
Rehabilitation services manager at Guide Dogs Queensland, Bashir Ebrahim, said there were community outreach clinics for people with low vision across the state but this was the first in Brisbane.
'QUT Health Clinics and Guide Dogs Queensland are establishing a new joint partnership which will serve and benefit the vision impaired community,' he said.
'At the low vision clinic we will have a range of services from canes to dogs, equipment and mobility services and a fully-equipped area for the optometry staff and students to assess low vision patients.
'Our association with the QUT Health Clinics has been established for many years and it is a mutually beneficial relationship with a focus on a positive outcome for patients.'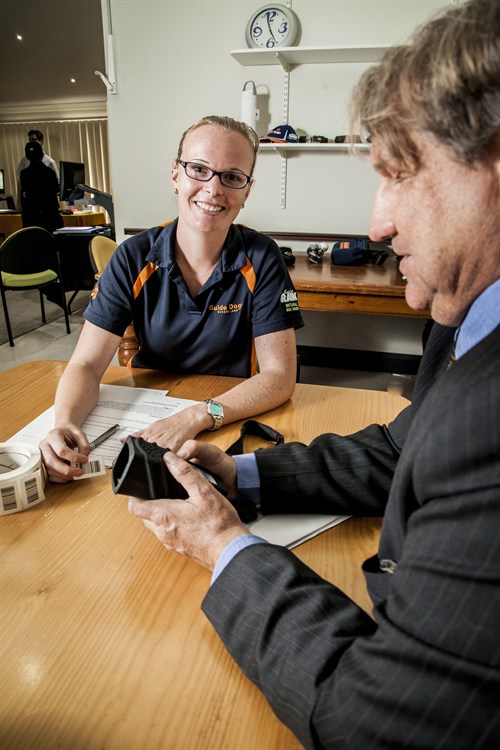 Guide Dogs orientation and mobility instructor
Jessica Hurst and patient Kelvin Steinhardt
Filed in category:
Uncategorised