Read time:

1:30min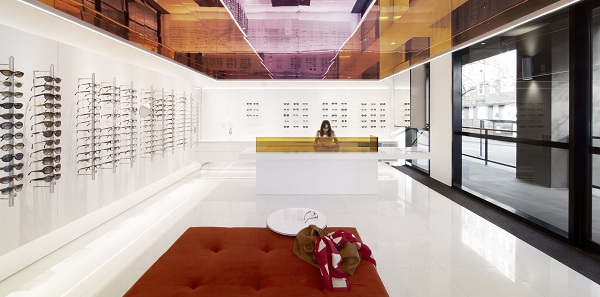 Independent optometrist Susan Green remembers when she first showed designer William Smart the site that would become Optique Potts Point. 'It was an extremely dark space,' she recalled. 'Literally, it looked like a black wall. Then William said: "We have to make this place glow".'
Potts Point is a densely populated artistic area, known for its sophistication and culture. Susan, who owns another Optique practice in Sydney's Double Bay, has watched the area with interest for many years. 'We noticed Potts Point was changing. Cafes were springing up, people were coming here and we saw that there was a lack of optometric practices in this area,' she said.  
Susan and her husband agreed that they had to do more than set up a practice in Potts Point, they had to establish a presence. Having had an excellent collaborative experience with Smart and Smart Design Studio, which designed the Double Bay practice in 2003, Susan contracted Smart again. 'When we decided to do a practice in Potts Point, we decided we were going to do it well,' Susan said.
Know the demographic
The two practices' demographics are in the same income bracket. Between the two, Optique services the affluent, older, slightly more conservative patients of Double Bay and the affluent, younger, slightly more progressive patients of Potts Point. The similarities between the two allow Optique to carry similar stock in both practices.
'William's work looks more expensive than it is.' – Susan Green
Smart says that the principle idea of the dramatic design of the practice was to attract people walking past. This was achieved primarily by the magnificent, large lantern feature in the centre of the space. 'Once established as a centrepiece, the lantern was used to do the rest of the work—provide the lighting, of course, but also to address problems like concealing sprinklers and air conditioning ducts—all the kinds of services we don't want to see—and to create a warm, beautiful artistic space,' he explained.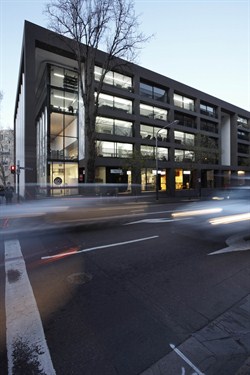 Optique Potts Point is only 50 square metres and
is designed to be staffed by one person.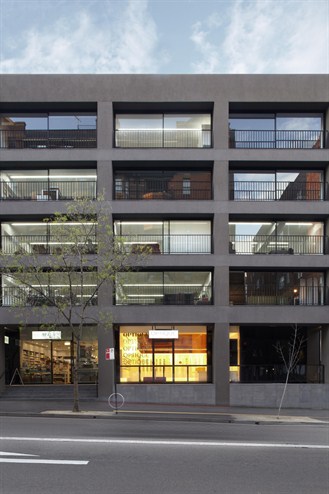 The main challenge for William Smart, creative director of Smart Design Studio,
was to build a connection between passers-by and the practice's elevated,
recessed position at the base of a dark and imposing building. 'Our solution
was to turn this challenge into an opportunity,' he said. 'A brilliant
"jewellery box" was created at the foot of the building.'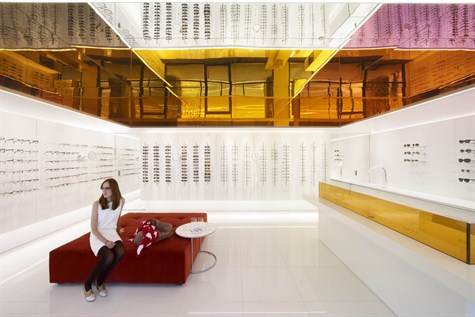 To make the interior highly visible, an all-white space was created beneath a coloured mirror lantern.
The inviting retail space signals its new use to passers-by. The lantern makes use of the practice's
tall ceilings and incorporates four different colours of mirror, as well as coloured glass, to create a
complex array of reflected light.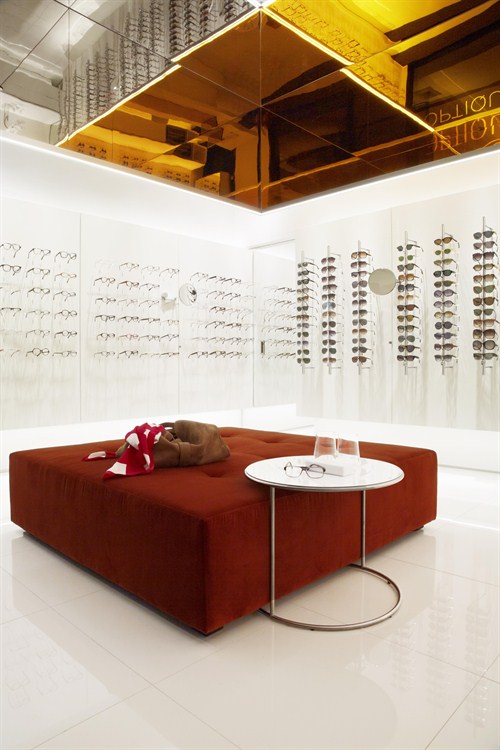 Mirrored doors conceal the back-of-house areas and allow patients
to view themselves full length while trying on the frames.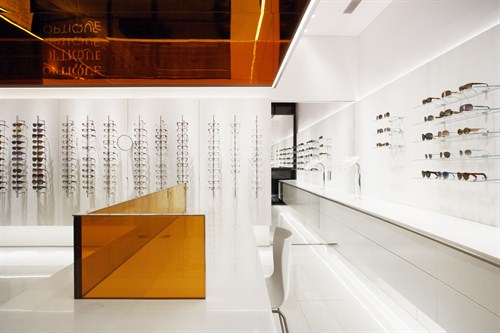 The white display panels, on which about 350 frames are mounted, are leather-clad
joinery doors that house additional stock, enabling the sales display area to serve a
dual purpose as the stock room. The limited footprint is practical and efficient, and
the patient is never left unattended.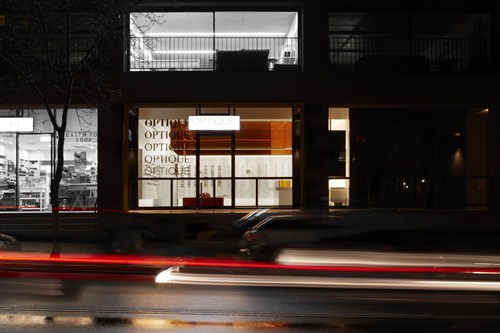 The lantern is illuminated with state-of-the-art LED lighting which glows bright orange,
attracting attention from passing pedestrians and cars. The ribbon lights are long and
narrow, only 12 mm wide, and provide a base level of lighting complemented by spot
lights that focus on the frame displays.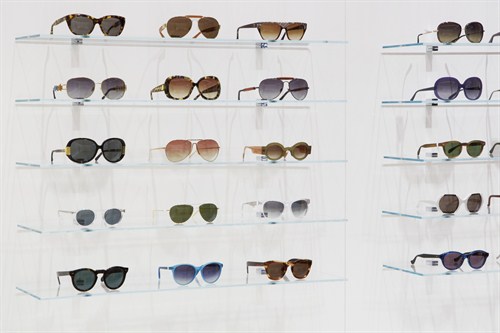 Frames and sunglasses are not housed behind glass. The frames float on minimalist wire and glass
fixtures while the sunglasses are lockable and displayed openly to maximise patient choice.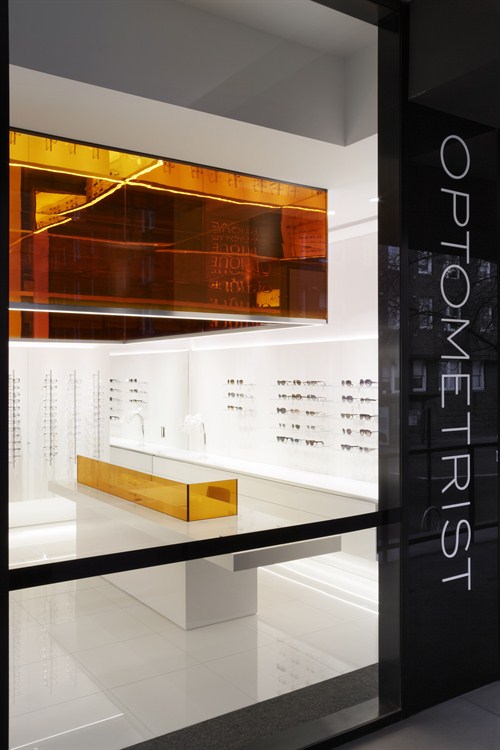 Twenty square metres of the 50 square metre space is dedicated to the consulting room,
measuring about three and a half metres by two metres, and the workshop. The rooms
have been positioned to allow one staff member to operate the practice in quieter times.

Filed in category:
Uncategorised