Read time:

1:30min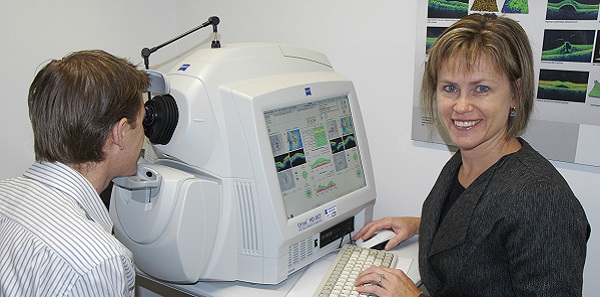 Elise Pocknee
Eyre Eye Centre, Port Lincoln SA
Your decision to purchase an OCT begins with two key questions: where are you going to put it and how do you want to use it? I can explain what we do in our practice and give you an idea of how you could use it in your practice.
Other questions are: Will it be in its own room or will you have it in your consulting room? Will you do the tests yourself or will you train your staff to use it? Will you use the OCT routinely on every patient, only on patients over the age of 50 or only on indication?
The Eyre Eye Centre has three consulting rooms and 2.5 full-time equivalent optometrists. Staff members do a routine battery of pre-testing procedures, including retinal photography and non-contact tonometry, autorefraction, pachymetry and keratometry using a four-in-one machine. We use the OCT on indication and our OCT and visual field testing are also done by our ancillary staff. Due to space restrictions, our OCT and visual field machines are in the same room—ideally they would be in separate rooms.
Staff training
We train all our staff members to use the OCT by a combination of on-the-job training and staff meetings dedicated to the use of OCT. They learn quickly, are competent and have enhanced job satisfaction as a result of their training.
As we continued to familiarise ourselves with the OCT in our practice, we realised that it is capable of much more than just detecting and monitoring glaucoma and macular degeneration.
In the typical optometric practice, there are many conditions that are better investigated and managed using the OCT, so we elected to use the equipment on indication only.
We have found OCT useful in the following conditions.
The OCT gives greater confidence in the differential diagnosis of glaucoma, suspected glaucoma and the monitoring of both conditions. The OCT is indispensable for glaucoma shared care.
You can confidently reassure your patient when they have dry MD and expedite their referral in the case of wet MD. We also monitor patients receiving anti-VEGF injections and on completion of their treatment.
Patients showing early signs of MD or those who have a family history of the disease are willing to undergo an OCT examination and pay the fees associated with it, in return for peace of mind.
OCT gives far greater accuracy in diagnosing macular oedema, and in some cases detecting oedema, than can be observed on normal fundus examination. We use OCT routinely in diabetes eye examinations.
OCT gives confidence in diagnosis and monitoring, and is excellent for patient education.
Cystoid macular oedema, central serous retinopathy, diabetic macular oedem
Macular holes
Unexplained decrease in visual acuity
Pre-operative assessment for cataract surgery.
Charging for OCT scans
When we purchased our OCT in 2009, we had no idea how often we would use it or what we should charge. We estimated that we would do a minimum of two OCT scans a day and we calculated the OCT fee based on the revenue needed to cover our lease repayments. As we learned the capabilities and benefits of the machine, and our skills and confidence grew, we increased the number of OCT scans we did and the fee we charged.
For example, you believe you can do three OCT scans per day on average.
If you charge $99 per OCT, do three OCT scans per day, five days a week, 48 weeks per year, you will generate $71,280 per annum.
If you do six OCT scans per day, on average, you will generate $142,560 per annum.
In both scenarios, you will easily cover your lease repayments. If you feel comfortable setting your fee higher or lower, you can extrapolate these figures to estimate your OCT income. Charge appropriately, and the OCT will pay for itself and make a profit.
The fee that you decide to charge will depend on your individual practice circumstances: the cost of the machine, financing costs, how quickly you want to pay off your machine, whether you bulk bill and what you feel comfortable with. Our experience has shown there is little or no patient resistance to OCT fees.
Another consideration is how you will view the result. You could print the results or you could purchase software that allows you to view reports and raw data in your consulting room. Some software will also allow you to store all your test results in one place, in other words, HVFA, photos, OCT, topography and matrix.
Ocular coherence tomography comes with a hefty price tag but it will improve your ability to diagnose, enhance your patient management and widen the scope of practice. It is extremely professionally rewarding. Correctly managed, it will increase your consulting income and generate profit for your practice.
– Elise Pocknee
Filed in category:
Uncategorised