Read time:

1:30min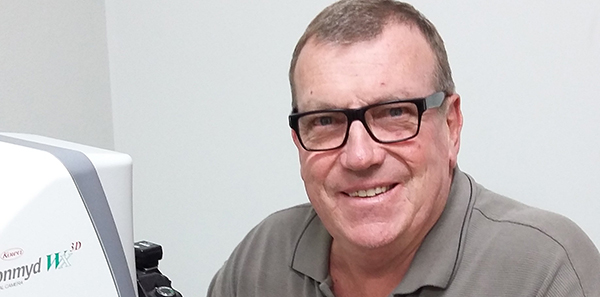 Stephen Jones
______________________________
By Rhiannon Riches
Assistant Editor
Mildura optometrist Stephen Jones was baffled when he looked at a patient's record card and realised that he had earned less seeing a patient in 2016 than when he had seen the same patient in 2010.
'And this will continue until 2020,' he said.
Mr Jones keeps a record of the cost of each consultation on each patient's record card. For those who have been coming to his practice over a period of years, the record is telling.
He established his practice in 1984 and is the principal owner in the business with three other partners. He is in the process of changing the practice name from Stephen Jones & Associates to Eyecare Sunraysia.
'We are a regional practice and we have never fully bulk-billed since 1984 and continue to be the largest practice in the district,' he said.
'Back when I started the practice, there weren't any corporates in town: no Specsavers, no Luxottica, no super stores. Bulk-billing wasn't an issue. You charged patients a fee, and bulk-billed those who couldn't afford to pay. That was what you did.'
Throughout the intervening years and changing government policy on Medicare, Mr Jones has held fast to his belief in privately billing patients.
'We're highly trained and I believe we're worth every penny for our consultations. I have strong views on optometrists undervaluing their clinical skills. We shouldn't bulk-bill. Which other professions do?  Now Specsavers and two other privately-owned practices in Mildura bulk-bill, and they advertise that fact.'
Mr Jones reflects on the financial repercussions of the Medicare rebate freeze to his practice.
'This year is going to be okay, although we still bulk-bill about 65 per cent of our patients because they are elderly or pensioners. We have a large demographic of people aged over 60 in this region.
'No-one blinked an eye when we introduced private fees. We'll probably have to look at putting up our private fees because we're not getting a fair MBS rebate,' he said. 'It's all about the service and care that you give'.
Filed in category:
Uncategorised