Read time:

1:30min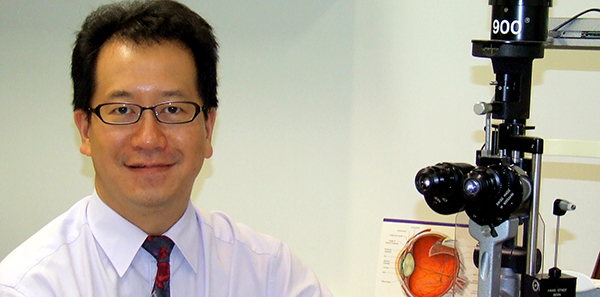 Associate Professor Anthony Kwan
______________________________
By Helen Carter
Journalist
Advances in retinal detachment surgery mean patients often leave hospital the same day, requiring more after-care involvement from optometrists, an ophthalmologist says.
Retina specialist and vitreoretinal surgeon Associate Professor Anthony Kwan from Queensland Eye Institute said the optometrists' role had now stepped up after retinal detachment repair.
Professor Kwan will give an update on retinal detachment and peripheral retinal degenerations and talk about retinal problems in systemic diseases at North Queensland Vision in Cairns in July.
He will explain the different types of retinal detachment such as exudative and retinal detachment with tears (rhegmatogenous) as he said it was important to distinguish between them due to different treatments.
'Retinal detachment is sight-threatening and delay in referral can result in permanent visual loss so it is important to recognise it early and refer for treatment as soon as possible to an ophthalmologist or hospital. Picking up retinal detachment early means better outcomes,' Professor Kwan said.
'I will explain the latest sutureless surgical technique in retinal detachment using smaller gauge needles which increase the success rate, is less invasive and is day surgery.
'We hope this message gets to optometrists. Day surgery for retinal detachment means ophthalmologists will liaise with optometrists for care once out of hospital and the optometrist can help in management of the patient post-operatively by seeing them once a week in their rooms until the eye recovers.'
Referral for peripheral disease
Professor Kwan will talk about when to refer for peripheral retinal disease and when referral is not needed. He said asymptomatic peripheral pathology may not need treatment, for example, lattice degeneration if asymptomatic can be observed, as can retinoschisis.
'If there is a retinal tear or peripheral haemorrhage, refer early,' he said.          
He will also discuss systemic diseases with retinal problems including the commonest one, diabetes, which can manifest as small blood vessel problems in the eye and lead to diabetic retinopathy.
Hypertension can also lead to retinal problems, he said.
'A lot of medications also have effects in the eye such as chemotherapy which can cause eye problems and the blood vessels can shut down in the eye causing retinal ischaemia. Lack of blood and toxicity changes to the cells in the eye can cause vision problems,' he said.
Professor Kwan said syndromic eye disease was another cause of retinal problems. For example, people born with syndromes such as Down syndrome could have early onset cataracts.
'If not picked up early, vision can continue to deteriorate,' he said.
'Most optometrists would be aware of some or all of these but if they don't think about them, they won't look for them so this is a reminder to treat patients holistically, treat the whole person. Ask about their general health, what other health conditions they have and other medications they take, and take this into account when looking at their eyes and seeing changes in the blood vessels in the eye.
'The optometrists' role is to help detect and refer, prevention, early screening, increased eye checks or suggest medication change if toxicity is causing eye problems.'
He said in some patients, changes occurred in the eyes before disease onset such as asymptomatic hypertension or diabetes.
'If an optometrist sees these changes in the patient's eye, they should advise them to check with their GP every six months or annually to determine if the condition develops and try to implement preventive measures,' Professor Kwan said.
He said optometrists were the gateway between GPs and ophthalmologists.
North Queensland Vision 2016 offers more than 40 CPD points during two days of lectures on 2-3 July at a new venue, the Shangri-La Hotel, Cairns. Daily breakfast lectures include a contact lens presentation on the Saturday sponsored by CooperVision.
Optometry Queensland/Northern Territory CEO Cathryn Baker is encouraging optometrists to bring their children and make it a holiday as NQV will be held during the school holidays for all states except South Australia.
She said families could also enjoy adventures through the rainforest at RainForeStation Nature Park near Kuranda, followed by dinner and dancing on the Saturday night. A well-rounded trade display will form part of NQV, allowing delegates to see the latest in equipment, contact lenses, finance, optical accessories and more.
'How could people not want to escape winter and spend time in the tropics?' Ms Baker said.
Filed in category:
Uncategorised