Read time:

1:30min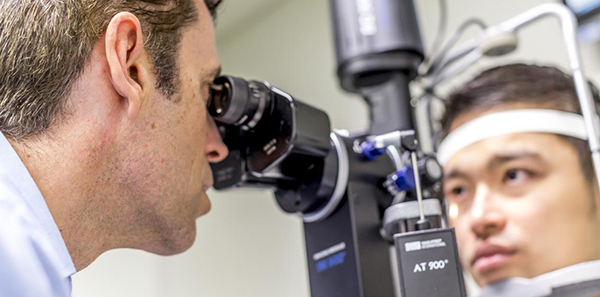 By Kirsty Machon
National Policy Manager
Optometry Australia has written to the Royal Australian and New Zealand College of Ophthalmologists (RANZCO) to provide strong comment on referral pathways for diabetic retinopathy and age-related macular degeneration.
In a letter to RANZCO president Associate Professor Mark Daniell, Optometry Australia national president Kate Gifford expresses disappointment that RANZCO did not accept an invitation to consult on these pathways.
'After Optometry Australia raised significant concerns about RANZCO's glaucoma referral pathway, we indicated at the time we would be ready and willing to discuss future guidelines and share the perspective of optometrists on these key conditions,' Ms Gifford said. 'Unfortunately, RANZCO unilaterally released these pathways at its national conference without that consultation.'
Ms Gifford said that had RANZCO elected to consult, the result would have been stronger pathways and a gain in credibility, with optometrists being assured of the genuineness of RANZCO's desire to collaborate with optometrists, as providers of primary eye care.
'Feedback from our optometric advisory group on diabetes suggests that the diabetic retinopathy pathway, in particular, fails to reflect the role optometrists play in diabetes management. For that reason, we do not recommend optometrists follow it in its present form,' she said.
The most critical concern is that the pathway is too simplistic and does not reflect the full scope of comprehensive optometric vision care for people with diabetes.
'Optometry Australia does not consider that taking a non-mydriatic digital fundus photograph as a basis for referral decisions represents best-practice optometric care,' Ms Gifford said. 'Comprehensive examinations of the eye, including pupil dilation and slitlamp biomicroscopy, have been recognised in NHMRC guidelines as crucial for patients with or at risk of DR.'
Ms Gifford also questioned other aspects of the pathway, including recommendations relating to the referral to ophthalmologists of pregnant women, and those with vision of less than 6/9 and no other pathology. Such blanket recommendations might be neither practical nor necessary, and potentially lead to over-referrals and increased time or cost burdens for patients.
A communication has been sent to Optometry Australia members, highlighting the concerns communicated to RANZCO, which includes an open invitation for dialogue.
Ms Gifford said that comment from the Low Vision Working Group was that the AMD Pathway was more applicable, and largely reflected the role of optometrists supporting ophthalmologists in the management of patients with that condition.
Filed in category:
Uncategorised