Read time:

1:30min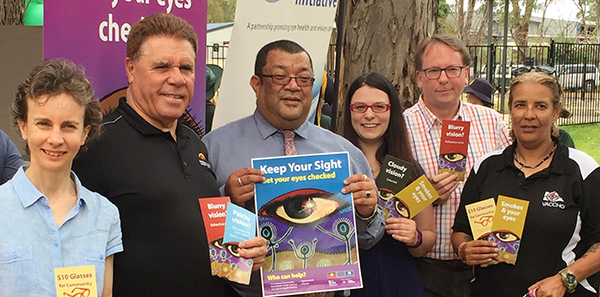 (L-R) Genevieve Napper ACO, Uncle Leon Saunders Community Elder, Kim Sedick Rumbalara, Dee Tumino VI, Mitchell Anjou IEHU, Susan Forrester VACCHO
______________________________
By Ashleigh McMillan
Journalist
New and updated resources for Aboriginal and Torres Strait Islander eye health will assist eye-care professionals and patients.
Edith Cowan University's Australian Indigenous HealthInfo Net portal hosted workshops on its updated resources for eye health workers in Darwin and Melbourne during November. A workshop is to be hosted in Perth on 1 December.
Information on the Eye Health Workforce Portal includes key facts about various eye diseases, publications and audio-visual promotional materials. Funding for the updated project was provided by the Fred Hollows Foundation in September 2016.
Optometry Australia policy and advocacy adviser Tin Nguyen, who attended the workshop on 18 November, says the new online portal for eye health resources hosts policy ideas and program outlines.
'It's really about sharing information between different Aboriginal communities. If someone from an optometry practice or public health service wanted to develop a new program, such as one for diabetes screening, they can now head to the website and look at existing programs and materials instead of having to reinvent the wheel.
'During the workshop, we worked through case studies on how to use the resources. It was a great opportunity to interact with other eye health organisations and facilitate collaboration,' he said.
The resources can be accessed on the HealthInfo Net website.
VACCHO promotional materials
The Victorian Aboriginal Community Controlled Health Organisation (VACCHO) and the Vision Initiative launched eye health promotion materials on 18 November.
The new resources, launched at the Rumbalara Aboriginal Co-operative in Shepparton, include posters and brochures on major eye health conditions such as diabetic retinopathy, cataracts and refractive error. They also provide information on how to access the Victorian Aboriginal Spectacles Subsidy Scheme.
The new materials feature artwork by Wirajuri/Yorta Yorta artist Aunty Lyn Briggs, who was commissioned to create art for VACCHO's first eye health program 18 years ago.
Clinical information for the resources was supplied by the Indigenous Eye Health Unit at the University of Melbourne and the Australian College of Optometry.
Access the RESOURCES
Filed in category:
Uncategorised