Read time:

1:30min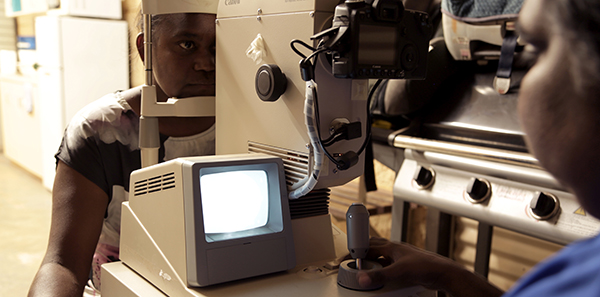 Retinal photography at Looma Health Clinic, Western Australia, as part of Indigenous Eye Health, The University of Melbourne's 'Check Today, See Tomorrow' resource.
Photo, Indigenous Eye Health, The University of Melbourne.
_____________________________
By Helen Carter
Journalist
The Department of Health has clarified claiming arrangements for the new Medicare items for diabetic retinopathy screening, with data showing they have been used in 1,594 patients in 13 months.
Senior research fellow and optometrist, Indigenous Eye Health, the University of Melbourne, Mitchell Anjou said uptake of the new MBS items supporting retinal photography in primary care has been steadily increasing for both Indigenous and non-Indigenous Australians.
The Department of Health's explanatory note states that MBS retinal photography item numbers 12325 for Indigenous people and 12326 for other Australians are intended for retinal photography using a non-mydriatic retinal camera in patients with diabetes.
The new information states: 'Any element(s) of the service may be performed by appropriately trained or qualified personnel under the direction of the medical practitioner co-ordinating the patient's care, who retains overall responsibility for claiming of the service.' 
Mr Anjou said feedback to the Indigenous Eye Health unit was that there had been some confusion and uncertainty about the use of the items.
'We then talked to the Department of Health officers responsible. The problem was uncertainty in some primary care clinics and in Medicare offices where claims apparently were being rejected because tasks had been delegated from GPs to support staff,' he said.
'The intent of the new items were to allow delegation but the claim needed to be signed off by a GP.'
Indigenous use higher
Optometry Australia Professional Development and Clinical Policy Manager Simon Hanna said current Medicare data showed that as of December 2017, the item numbers had been used 1,594 times in the 13 months since being introduced in November 2016.
There were 937 claims for Indigenous patients and 657 claims for non-Indigenous patients.
Queensland is leading the way with 427 claims followed by Victoria 354, Western Australia 319, NSW 257, Northern Territory 190 and South Australia 47.
'We expect the use of the items to continue to grow with the progressive roll out of new cameras and training in Aboriginal Medical Services across the country,' Mr Anjou told Optometry Australia.
'The intent of these MBS items is to increase the retinal screening rates for patients with diabetes, as we know from the 2016 National Eye Health Survey that nearly half of Aboriginal and Torres Strait Islander people with diabetes are not receiving annual retinal screening and half of those report no previous retinal examination.
'There also remains a significant discrepancy between retinal screening rates for Indigenous Australians with diabetes – 53 per cent – and non-Indigenous Australians – 78 per cent.
'The new retinal screening items are not designed to replace or displace existing services, but rather support improved identification of patients in primary care settings who need more comprehensive assessment from eye care providers.'
In line with NHMRC guidelines' recommended frequency of testing, the MBS has separated this service into two items.  While Aboriginal and Torres Strait Islander people are eligible to claim a rebate for item 12325 every 12 months, item 12326 provides a rebate for non-Indigenous people once every two years.
The items are intended for the provision of bilateral retinal photography with a non-mydriatic retinal camera.  Mydriasis is permitted if adequate photographs cannot be obtained through an undilated pupil.
'Presenting distance vision means unaided distance vision or the vision obtained with the current spectacles or contact lenses, if normally worn for distance vision,' the descriptor states.
'Detection of any diabetic retinopathy should be followed by referral to an optometrist or ophthalmologist in accordance with the NHMRC guidelines.
'Where images are of inadequate quality for detection of diabetic retinopathy, referral to an optometrist or ophthalmologist for further assessment is indicated.'
Resources to help optometrists and GPs
Optometry Australia has developed and promoted a resource for GPs using these items to support them in undertaking an appropriate screening and to ensure they know when referral to an optometrist for a comprehensive examination is indicated. This resource complements the GP factsheet and advertising and awareness campaign which has been run to increase GPs' understanding of optometry's role in primary eye care and strengthen referral pathways.
Optometry Australia's Simon Hanna said: 'We encourage optometrists to discuss these item numbers with their local GP, to consider where optometrists could assist with use of camera training, and retinal image grading and assessment.
'In some cases, an ongoing private commercial arrangement could be established between the optometrist and GP, including a fee for the optometrist to provide these services.
'This resource helps optometrists discuss this with their local GP.'
Optometry Australia also developed a Q&A on new retinal photo MBS item to help its optometrist members.
_____________________________
Filed in category:
Uncategorised