Read time:

1:30min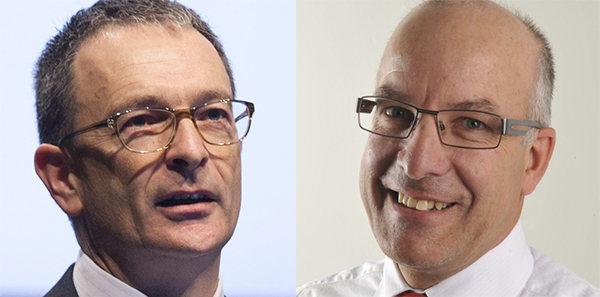 Mark Roth (L) and John Farmer
______________________________
By Ashleigh McMillan
Journalist
Leading Victorian optometrists Mark Roth and John Farmer have each been awarded the Medal of the Order of Australia (OAM) in the 2017 Australia Day honours on January 26.
University of Melbourne Associate Professor Mark Roth was awarded the OAM for his service to therapeutic optometry and to professional bodies. He is a current member of the National Prescribing Service expert reference group and has been the clinical editor of Optometry Pharma since its inception in 2008.
Professor Roth was the recipient of the Outstanding Achievement Award from Optometry Victoria in 2004.
Drouin optometrist John Farmer was awarded the OAM for service to optometry and to the community. He co-developed practice management software Optomate and was instrumental in transitioning LogMAR charts from research tools into clinical practice. He has been involved with eye care in Papua New Guinea since 1982.
Mr Farmer was the recipient of the Alumnus Award from the Department of Optometry and Vision Science, University of Melbourne in 2016.
Mark Roth
A focus on therapeutics and education
As part of his commitment to therapeutics, Mark Roth was on the Optometry Board of Australia's Scheduled Medicines Advisory Committee between 2010 and 2015.
He is now the Principal Fellow in the Department of Optometry and Vision Sciences at the University of Melbourne, teaching future optometrists how to use the scheduled medicines he worked to make accessible in clinical practice.
Professor Roth told Australian Optometry he was deeply honoured and humbled to have received the OAM, which was possible only due to the determination of other optometrists and eye-care colleagues.
'It reflects not just on my work but also the work and effort of so many of my colleagues, especially with regards to therapeutics, and they know who they are. It's especially recognition of my partner Nicole Leong, who has been with me in every step of the journey, in everything that I've done.
'I'm lucky that I love my job and optometry is a great profession. I'm proud of making a difference in terms of pushing therapeutic legislation to have access to all the drugs we need, and allowing optometrists to practise to the full extent of the capabilities and training.
'My advocacy was important to me, and now education is very important, making a difference to the next generation of optometrists and passing down knowledge,' he said.
Professor Roth said his focus on therapeutics stemmed from his primary mentor, Peter Dwyer, whom he described as a visionary of the profession.
'Peter was on the Optometry Board in Victoria and I kept on complaining to him about the fact we couldn't prescribe drugs, so without my knowledge he nominated me to go onto the board too. I think that started the whole process from whinging about something to actually trying to get involved and change something.
'I got involved with a number of great people through Optometrists Association Australia [now Optometry Australia] and the Optometry Board of Australia, and we worked together to try and get the right drugs for optometry,' he said.
In December 1996, Victoria became the first state to legislate to let optometrists use and prescribe Schedule 4 drugs.
'Having achieved that goal, we tried to help other states achieve enabling legislation, which was important because at that point we didn't have uniform national regulation,' Professor Roth said. 'After that, we worked on the PBS access, because you can't really have the drugs without the PBS.'.
Professor Roth has had wide-ranging involvement with Optometry Victoria, where he served as a director between 1990 and 2000. He was the chairman of Optometry Victoria's Therapeutics Committee between 1995 and 2000 and was a member of the Education Committee between 1992 and 2000.
He said it was a logical step to help with optometric education, citing his involvement with the first Doctor of Optometry course in Australia at the University of Melbourne as another highlight of his career.
'I'd like to stay with education, lecturing at the university and also if opportunities arise, to lecture at professional conferences. I'd probably like to do a bit more writing and a bit more publishing.
'Our profession has many optometrists who are so giving, and for this I'm grateful to be counted among the optometry family,' Professor Roth said.
John Farmer
A passion for Papua New Guinea
Mr Farmer began travelling to Papua New Guinea (PNG) to provide optometric care in 1982, after his practice partner Geoff Leunig travelled there in 1981 to service rural parts of the country.
There was no eye care outside of the country's capital of Port Moresby, where two government-employed ophthalmologists were based. Between 1981 and 1995, 17 month-long trips were made to provide eye care to PNG by optometrists from Leunig and Farmer's L&F Eyecare.
Mr Farmer ran training programs for PNG optometry nurses in 1994, 1997 and 2001 and was instrumental in setting up the PNG Eye Care, a non-government organisation providing low-cost spectacles, in conjunction with the Brien Holden Vision Institute and ophthalmologists in the country.
Mr Farmer said the OAM was a big honour which also belonged to those who had assisted him over his professional career in his practice and overseas.
'I felt really honoured and in a sense I was also pleased for all the people who have helped me and been a part of the things I've been involved in throughout my entire optometry career, particularly the PNG work,' he told Australian Optometry.
Since 2012, Mr Farmer has visited Port Moresby twice yearly to teach ophthalmology trainees at the Port Moresby General Hospital and the University of Papua New Guinea.
'I worked to try and get the ophthalmologists some basic equipment which they didn't have, such as an old OCT machine donated and shipped and two field units. We also keep supplying them with globes and bits and pieces to help keep the clinic going, because the government support to the eye clinic has been extraordinarily poor,' he said.
Looking to the future, Mr Farmer said his aid work in PNG was still focused on assisting locals to be able to provide their own health care, rather than providing it for them.
'The PNG work is still ongoing, there's still a lot to do there and there always will be, so for as long as I can be helpful to them, I'll continue to be involved. People there are already working hard in extraordinary circumstances, and they're grateful for someone to give them some encouragement and support and help along the way.
'We need to do more in PNG with mid-level training; we need to produce higher-quality mid-level workers than we are currently doing. There's going to be a need for a longer course in the next umpteen years, so we need to start transitioning towards that.
Mr Farmer said he still enjoyed clinical practice and the joys of seeing patients.
'We try to run a practice that provides therapeutic eye care. Because we're far enough out in the country, we don't have resident ophthalmologists so we get basically all of the non-surgical eye care coming through the practice here.
'I'm extraordinarily grateful to my wife Judy Farmer who has been a strong part of the PNG work all the way through. It's as much a part of her life as it is my life.
'She's been very supportive of my work in PNG, as have been the partners of L&F Eyecare over the years. Without the support of the business here, the partners and the staff, it wouldn't have been possible,' Mr Farmer said.
Filed in category:
Uncategorised