Read time:

1:30min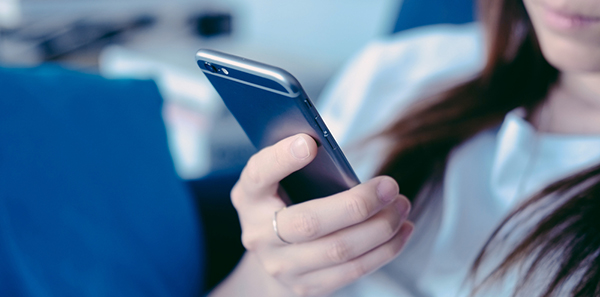 By Rhiannon Riches
Assistant Editor
Australian research has shown that a 60-minute reading task on a smartphone results in increased eyestrain symptoms and readers are more likely to hold the smartphone closer at the end of the hour.
Tired, uncomfortable eyes and blur are the most significant symptoms reported after the hour-long reading task.
Vision researchers Dr Jennifer Long, Rene Cheung, Simon Duong, Rosemary Paynter and Dr Lisa Asper at the University of New South Wales conducted the study.
Dr Long and Dr Asper are senior lecturers at the School of Optometry and Vision Science, with expertise in visual ergonomics and binocular vision, respectively. Ms Paynter, senior staff optometrist in the UNSW Optometry Clinic, has expertise in children's vision. Rene Cheung and Simon Duong were final-year optometry students when the study was conducted.
Lead author Dr Long said Rosemary Paynter initiated the idea for the research, which involved 18 participants aged from 18 to 29 years with normal binocular vision.
'Rosemary remarked on the number of small children viewing digital devices at very short viewing distances for long periods. She had observed a child in a restaurant playing with a device for two hours and wondered if this had any effect on vision,' Dr Long said.
'Rosemary, Lisa and I had a few discussions about the topic and we decided to put together a proposal for a fifth-year undergraduate optometry project. In 2013, final year students Rene Cheung and Simon Duong took up the challenge and did a wonderful job running the project and collecting quality data.
'We changed the focus of the project from Rosemary's original idea and decided to run the study with young adult subjects rather than children, and limited it to viewing distances and symptoms,' she said.
Participants in the study were required to complete a pre- and post-experiment symptom survey, rating how they felt 'at the moment' on a sliding scale. Participants read an extract from a novel on a smartphone for 60 minutes. The text size was two millimetres, the height of a capital letter H.
'We chose 60 minutes because we wanted to test our hypotheses under more extreme viewing conditions. This is not an uncommon time period in reality with people using their smartphones on long train journeys, reading books, playing games and so on,' Dr Long said.
The viewing distance was measured from a photograph taken every minute. Photographs were grouped into six 10-minute periods.
When the six grouped periods were compared, the viewing distance during the first, second and fifth 10-minute period were significantly greater than the viewing distance during the sixth, or last, 10-minute period of the experiment.
Self-defeating strategy
The researchers note that holding the phone closer in response to visual stress is a self-defeating strategy because the shorter viewing distance further increases the accommodation and convergence demands.
'We observed our subjects holding the smartphone at very close working distances. This is not uncommon; you can see this if you watch people in workplaces and in the street. We showed that reading from the smartphone at a close viewing distance correlates with an increase in visual symptoms,' Dr Long said.
'At this stage, our research has not established what the time limit should be for reading on smartphones. There is other research already published for desktop computers, showing a link between visual symptoms and 30 minutes of computer use, but we don't know if this also applies to smartphones.'
The study was conducted in 2013 and the resulting research was presented at the International Ergonomics Association Triennial Congress in Melbourne in August 2015.
'From the beginning we intended to send this work for publication in an optometry journal. However, there is a lot of cross-over in this work between optometry and ergonomics, and we wanted to canvas the opinion of an ergonomics audience.
'We were fortunate to receive some very good feedback from the reviewers of our conference abstract, as well as feedback and questions from audience members at the conference. We incorporated this knowledge into our paper which has been published in Clinical and Experimental Optometry,' Dr Long said.
Dr Long, Dr Asper and Blanka Golebiowski are running at UNSW a research project that builds on the findings published in this paper.
Read Viewing distance and eyestrain symptoms with prolonged viewing of smartphones
Filed in category:
Uncategorised