Read time:

1:30min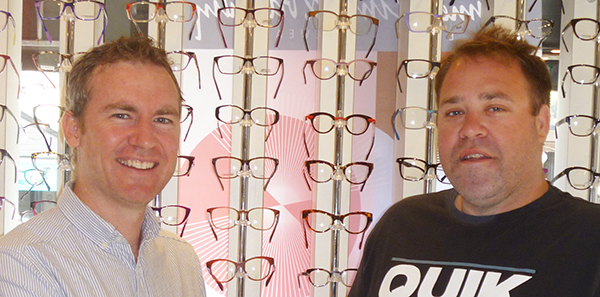 Optometrist Stephen Brady (L) and Shane Dunbar-Reid   Photo: Byron Bay Eyecare
______________________________
By Helen Carter
Journalist
Byron Bay optometrist Stephen Brady acted quickly to ensure sight-saving treatment for a former patient who visited him while on holiday.
Several years later, Shane Dunbar-Reid is able to see and work as a sandblaster and spray-painter, due to the prompt action of the NSW optometrist.
Mr Dunbar-Reid lived in Byron Bay before he moved to Canberra with his wife Melissa and young children. His diabetic macular oedema was diagnosed while on holiday visiting his parents in Byron Bay.
He is moving back to Byron Bay with his wife and children and returned to thank Mr Brady this week. Mr Brady, who has practised as an optometrist for 20 years, will again be his optometrist.
'I owe Steve. He gave me sight. I could have been blind but he found the DME and organised for it to be treated efficiently and straight away,' Mr Dunbar-Reid said.
Mr Dunbar-Reid, aged 40, had been diagnosed with type 2 diabetes at the age of 26 years while living in Byron Bay. 'Steve looked after my eyes and regularly lectured me on diabetes and what it could do to your eyes,' he said.
'We moved to Canberra seven years ago but we regularly returned to Byron Bay for holidays to visit my parents and while there I would see Steve at Byron Bay Eyecare.
'The last time he found dots on the back of my eye and did some tests. He said there were problems and I needed to see an eye specialist urgently.'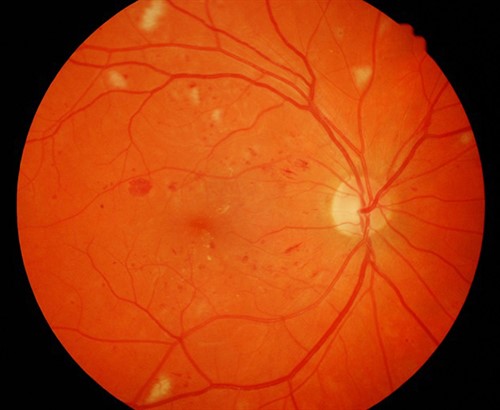 Shane Dunbar-Reid's retina showing haemorrhages, ischaemia and lipid exudate   Photo: Byron Bay Eyecare
Mr Brady said it was fortunate that Mr Dunbar-Reid had come for a routine review while on holiday as he had had no symptoms.
'I saw cotton wool spots and proliferative changes in his eyes indicative of lack of oxygen and tissue damage in the retina,' Mr Brady said. 'It was pretty critical and I sent him for urgent referral and stressed it was important to get onto it very promptly. He saw an ophthalmologist within a few days.
'It was picked up on routine assessment. If he hadn't come in, he could have had irreversible changes of the macula. In both eyes there was ischaemia, a lot of haemorrhaging and haemorrhages close to the macula, which untreated could have resulted in vision loss.
'I've seen a few cases like this but his was up there.'
Mr Dunbar-Reid had several laser treatments with a Canberra ophthalmologist but as they were not effective, she referred him to ophthalmologist Dr Andrew Chang who visited Canberra and delivered an injection each month into both eyes.
After a few treatments in Dr Chang's ophthalmology rooms, costing $1,200 per eye, Mr Dunbar-Reid decided two years ago to travel to Sydney every month to have the injections at Dr Chang's Sydney Retina Clinic and Day Surgery. Receiving injections in the day surgery reduced the cost to $250 per injection, subsidised by health insurance.
'Dr Chang has been a really good doctor for me,' Mr Dunbar-Reid said.
He says the DME is stable although 'sometimes things get a bit blurry'. His wife takes a day off her teaching job every month to drive her husband from Canberra to Sydney and back for treatment.
After participating in a trial comparing Eylea injections in one eye with Avastin injections in the other, Mr Dunbar-Reid now has Eylea in both eyes as that treatment was found to be best for him.
DME report
In 2015 Mr Dunbar-Reid and his wife spoke about living with DME at a launch at Parliament House, Canberra, of a report on the economic impact of DME.
In 2015 the Macular Disease Foundation Australia was involved in the release of The Economic Impact of Diabetic Macular Oedema in Australia, a Deloitte Access Economic Report commissioned by Bayer Australia.
The report identified that by 2030 the number of Australians living with diabetes was estimated to rise to 2.45 million.
Foundation CEO Julie Heraghty said this was a major concern, as every person with diabetes was at risk of vision impairment.
'Many Australians with diabetes don't recognise they are at risk of blindness or understand the importance of maintaining regular eye tests, and we know their risk actually increases over time, even if they are managing their diabetes well,' Ms Heraghty said.
She said the foundation had produced a range of diabetic eye disease resources for those living with diabetes, including a comprehensive booklet and flier, which are available free of charge for optometrists to give patients. To order call 1800 111 709 FREE or visit www.mdfoundation.com.au.
See: Economic Report: 1 in 2 with diabetes not having eyes checked
Filed in category:
Uncategorised