Read time:

1:30min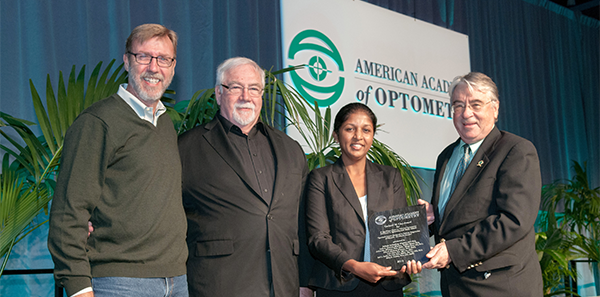 ______________________________
Published research on a novel spectacle lens design to control myopia progression has led to five Sydney optometrists winning the American Academy of Optometry's Garland W Clay Award.
The award is for Optometry and Vision Science's most significant paper published in the past five years and was presented at the academy's annual meeting in Seattle on 25 October.
The paper, published in September 2010 and entitled 'Spectacle lenses designed to reduce progression of myopia: 12 month results', detailed a 30 per cent reduction in myopic progression in 200 six- to 12-year-olds with a history of parental myopia, using one of the designs. 
The paper reported on the results from spectacle lens designs that were developed based on the peripheral retina defocus theory proposed by Professor Earl Smith from the University of Houston and researchers from the Vision Cooperative Research Centre (CRC), Sydney.
It suggests that in a myopic eye, correction with a traditional device such as a spectacle lens causes the image to focus on the retina centrally but comes to a focus behind the retina at the periphery, resulting in blur that could drive the eye to elongate and for myopia to increase.
The lens designs reversed this condition by moving the peripheral image forward, on to or in front of the retina, while simultaneously positioning the central image on the retina, resulting in clear vision.
Some of the world's leading experts in myopia control and lens development from the USA, China, Australia and India collaborated on the project with the goal of developing products capable of reducing progression of myopia.
The Vision CRC in Australia brought the group together. Collaborators were from the Brien Holden Vision Institute, Carl Zeiss Vision, Zhongshan Ophthalmic Centre and the University of Houston.
The BHVI optometrists to receive the award are Associate Professor Padmaja Sankaridurg, Leslie Donovan, Dr Arthur Ho, Dr Aldo Martinez and Professor Brien Holden.
They share the award with six colleagues who collaborated on the research. Professor Sankaridurg was the lead author. She said it was an honour to receive the award.
'More importantly, we believe that the recognition of the work highlights the need in the field for efficient solutions to tackle the problem of myopia,' she said. 'The work is an important tool in our understanding of the fight against myopia.
'Myopia progression is of major concern as the risk of developing retinal detachment, glaucoma or other potentially blinding conditions significantly increases when an eye grows to a range classed as high myopia,' Professor Sankaridurg said.
She said estimates suggested an impending crisis with 1.4 billion myopes worldwide.
Filed in category:
Uncategorised