Read time:

1:30min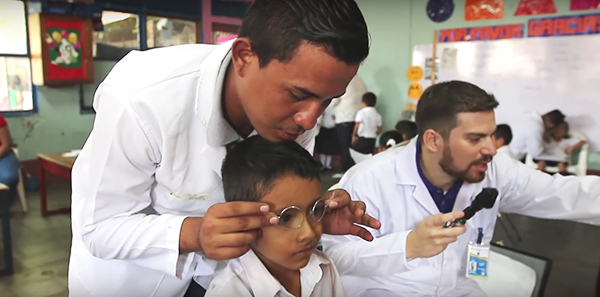 Nicaragua eye-care project
______________________________
By Jane Body
Optometry Giving Sight
As you begin planning for the new financial year ahead, we invite you to support the important work that Optometry Giving Sight funds and help transform lives with the gift of vision.
We all know the difference that an eye examination and a pair of spectacles can make but without sustainable education and training programs, millions of people can't access the eye care they need.
Optometry Giving Sight supports schools of optometry in Africa, Asia and Latin America. Last year, the School of Optometry in Nicaragua graduated its first locally-trained optometrists. It was a momentous occasion for all involved, including Dr Justin Manning, a US optometrist who is a teacher at the school, mentor to the students and overseer of the community clinic where the students practise their skills under supervision.
'It's one thing to help one patient in my clinic at home, it's another thing to empower someone else to help others,' he said.
Last year, the School of Optometry in Nicaragua graduated its first locally-trained optometrists.
To date, the optometry development program supported by Optometry Giving Sight has helped to train 383 optometrists who have the capacity to see 766,000 patients each year. Another 782 students are on track to become optometrists or optometric technicians in the next few years.
The first school of optometry in Ho Chi Minh City, Vietnam will also see its first graduating class complete their studies next year and go on to provide much needed eye-care services throughout the country.
Optometry Giving Sight is Optometry Australia's charity of choice and we encourage your support because as a group we can make a meaningful contribution. For every new optometrist trained, for every new vision centre established, thousands of people will have access to better eye care.
By making a tax deductible donation this year, you will be enhancing the work of the optometric profession around the world. Just like you, the students in these programs understand the importance of clear vision, and the quality of life for their patients, just like yours, will be dramatically improved.
If you are in New South Wales, Victoria, Western Australia or the Australian Capital Territory, simply 'Tick Yes to OGS' on your Optometry Australia membership renewal form. If you are in Queensland, South Australia, Tasmania or the Northern Territory, watch for a direct invitation from Optometry Giving Sight to make your end of financial year donation.
Filed in category:
Uncategorised