Read time:

1:30min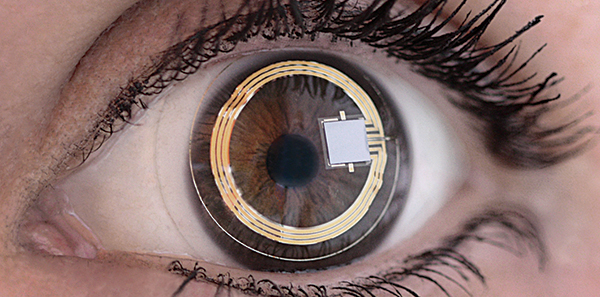 The Sensimed Triggerfish monitors IOP changes over 24-hour periods
______________________________
By Rhiannon Riches
Assistant Editor
FDA approves marketing of Triggerfish contact lens
The United States Food and Drug Administration has allowed marketing of the Triggerfish soft silicone contact lens that has an embedded sensor that can detect tiny changes in eye volume.
The device is worn for a maximum of 24 hours, transmitting data wirelessly from the sensor to an adhesive antenna worn around the eye. A portable data recorder worn by the patient receives information from the antenna and can transfer the data via Bluetooth to the clinician's computer, which shows variations in the pressure of the eye during the day.
The Triggerfish is manufactured by Sensimed AG of Lausanne, Switzerland. The device does not measure IOP, is not intended to be a diagnostic tool and is not used to correct vision but may help practitioners identify the best time of day to measure a patient's IOP.
Stem cell study is 'science at its best'
Two new studies published this week in Nature suggest stem cells may soon play a key role in repairing eyes and vision.
In the first study, a team developed a new surgical technique for repairing cataracts, based on preserving the patient's own eye lens stem cells, which worked in human infants. The second study involved growing various animal eye tissues from stem cells and the successful replacement of corneal epithelial cells in a formerly blind rabbit.
Experts in the field have lauded the studies as remarkable accomplishments. Scimex reported that Dr Dusko Ilic, Reader in Stem Cell Science at King's College London, said the first study was one of the finest achievements in the field of regenerative medicine.
'The basic science research led to the hypothesis that preserving and stimulating autologous stem cells in the eye might promote regeneration of a surgically removed lens. And indeed, their hypothesis was true. They proved it first by testing a new surgical approach in rabbits and primates before successfully treating 12 infants. It is science at its best,' Dr Ilic stated in a media release.
Funding grant for Vision Australia
The Victorian Government has announced a $500,000 funding boost for Vision Australia to develop a state-of-the-art training centre to help vision impaired Victorians learn new urban orientation and mobility skills.
The Indoor Mobility and Safety Training Centre will be established at the Seeing Eye Dogs centre in Kensington, Melbourne.
It will feature a mock pedestrian and train crossing, a bus stop with a shelter and roadside kerbing, functional traffic lights with aural signals, open and closed stairs, and a mock café.
The project is expected to be completed in 2017 and will operate seven days a week.
New severe dry eye medication trials progress
A new cyclosporine eye-drop formulation, known as Seciera, to reduce ocular surface inflammation has started its FDA Phase 3 confirmatory trial with about 700 patients enrolled.
Results are expected to be announced during the fourth quarter of 2016, according to the medication's patent owner, Auven Therapuetics.
Auven co-founder Dr Peter Corr said the company anticipated that the trial would demonstrate conclusively Seciera's ability to offer significant improvement in tear production and decrease ocular surface inflammation.
Experienced optometrists wanted for OBA committee
The Optometry Board of Australia is seeking applications from experienced practising optometrists for appointment to its Registration and Notifications Committee.
The committee is responsible for making decisions in relation to registration and notification matters, providing professional and practitioner input to AHPRA about optometry registration and notification matters, and making recommendations and providing advice to the OBA.
Appointments may be up to three years, with eligibility for reappointment, and are expected to commence in mid-2016.
Applications close on 11 April 2016. For information on the application process, download the candidate information pack.
Drug delivery through silicone hydrogel shows potential
Silicone hydrogel materials have the potential to deliver drugs to the anterior eye for over two weeks without compromising lens properties, a study has shown.
The study's researchers conclude that this could potentially overcome the need for regular eye-drop instillation and allow for the maintenance of drug concentration in the tear film over the period of wear.
They have noted that drug delivery to the anterior eye has a low compliance and results in significant drug losses. They recognised that in children, eye diseases such as myopia and retinoblastoma can potentially be treated pharmacologically, but the risk associated with high drug concentrations coupled with the need for regular dosing limits their effectiveness.
Their findings, published in Optometry and Vision Science, represents a potential option for treating ophthalmic disorders in children, including myopia and retinoblastoma.
Filed in category:
Uncategorised