Read time:

1:30min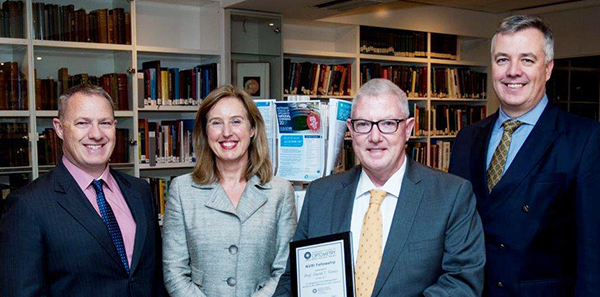 (L-R) NVRI director Professor Michael Ibbotson, ACO CEO Maureen O'Keefe, Professor David Vaney and Professor Konrad Pesudovs
______________________________
By Ashleigh McMillan
Journalist
The Australian College of Optometry awarded Professor David Vaney the National Vision Research Institute Fellowship, at its annual general meeting on 24 May.
In a career spanning 42 years, Professor Vaney's research has centred on neuroscience as it relates to visual systems and the structure and function of the retina. He is currently an Emeritus Professor at the Queensland Brain Institute, University of Queensland.
Mitchell Anjou received the Outstanding Service Award, for his work in improving accessibility and sustainability of Indigenous eye health, in particular development and implementation of The Roadmap to Close the Gap for Vision.
ACO council members appointed in 2016 include Melissa Downing, Mitchell Anjou, Professor Konrad Pesudovs and Denise Gronow.
According to the ACO's 2016 Annual Report, which was launched at the event, the college provided 77,824 patient consultations in 2016, with 2,900 Aboriginal and Torres Strait Islander patients accessing eye examinations provided by the ACO and supported by the Victorian Eyecare Service.
Optometrists Janelle Scully, Heather Connor and Brad Kirkwood were awarded ACO Fellowships, which recognise members who have made a significant contribution to the optometry profession and wider community.
The ACO also provided Outstanding Graduate Awards to five early career optometrists: Jessamy Bound (Flinders University), Natalie Guillon (Deakin University), Louise Kowalski (Queensland University of Technology), Jade Lindsay (University of Melbourne) and Kellie Xie (University of New South Wales). 
Filed in category:
Uncategorised