Read time:

1:30min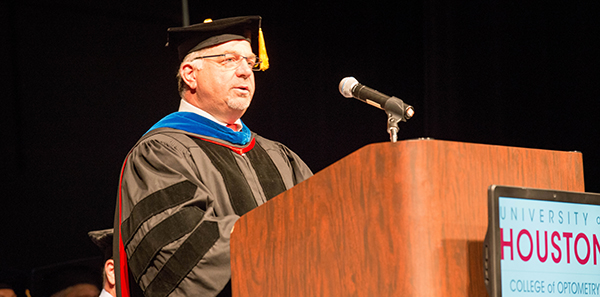 Professor Michael Kalloniatis giving the Houston address  Photo: David Gee
______________________________
By Helen Carter
Journalist
Centre for Eye Health director Professor Michael Kalloniatis has become the first Australian to receive a distinguished alumnus award from the University of Houston College of Optometry.
Professor Kalloniatis, who earned his PhD at the University of Houston in 1988, received the Distinguished Alumnus Award for 2017 at a convocation ceremony on 12 May at the university in Texas.
The award was for his lifelong service to the profession including academic, research and other achievements, and university, national and international appointments.
'It was a very special day for me,' Professor Kalloniatis said. 'My PhD supervisor, Dr Ron Horvath, was there and I also saw some former classmates.'
He is a highly experienced optometrist with a range of academic and research experience who has maintained clinical practice throughout his career.
Professor Kalloniatis, an Honorary Professor of Anatomy and Neuroscience at the University of Melbourne, is also Honorary Professor of Optometry and former Head of Department at the University of Auckland, where he introduced therapeutic teaching and was Associate Dean for Research in the Faculty of Science.
With the University of Auckland's Department of Ophthalmology, he set up the New Zealand National Eye Centre in 2008.
In 2009, he established the Centre For Eye Health within the University of NSW and became its director, and Professor of Optometry and Vision Science at UNSW.
Colour vision thesis
After completing his Bachelor of Science and Master of Science in Optometry at the University of Melbourne, he moved to Houston to undertake his PhD, entitled 'Psychophysical studies on colour vision processing in the monkey visual system.' It looked at how monkeys perceive colour, including a glaucoma monkey model.
Professor Kalloniatis accepted an appointment as a National Institute of Health Research Fellow and undertook three years post-doctoral training in neuroanatomy at the University of Texas Graduate School of Biological Sciences with Dr Robert Marc before returning to Melbourne in 1991.
His Houston alumnus award introduction stated: 'With an expertise in retinal neurobiology, clinical testing of visual psychophysics and a keen interest in glaucoma and retinal disease diagnosis, he is an active researcher, publishing on many topics. He is a frequently invited speaker presenting within Australia as well as internationally.
'Dr Kalloniatis has four daughters and holds a fifth dan black belt in karate.'
In his commencement address, he had three key messages for graduates.
Always be confident in what you have been taught and never doubt your abilities.
Always seek continued improvement to ensure your professional and personal development but do not be afraid to challenge conventional wisdom.
Partake in your community including your profession, your local community, religious group, the college that provided your education, or some other organisation. Partake in your community because a key aim of tertiary education is to train community leaders. Your profession is one of your communities so, partake in its activities, its management but also partake in other communities that are relevant to you. The challenge I leave you with is to immediately begin contributing to your community or expand your current involvement and become community leaders.
Professor Kalloniatis continues to be committed to improving optometric education and health-care delivery, and contributing to his community.
Filed in category:
Uncategorised