Read time:

1:30min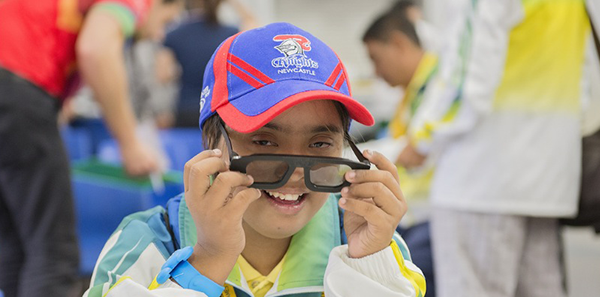 ______________________________
A volunteer optometry team is conducting vision checks on more than 800 intellectually disabled athletes participating in the 2013 Asia-Pacific Special Olympics in Newcastle.
The team of 23 optometrists, 18 optometry students from the University of New South Wales, seven optical dispensers and Lions Club members is providing the vision screenings from 28 November to 4 December.
They expect to prescribe spectacles and prescription sports and swimming goggles, and provide sunglasses.
By Monday 2 December, the team had conducted 450 checks and prescribed 81 pairs of spectacles and swimming goggles, and detected one glaucoma case requiring immediate treatment.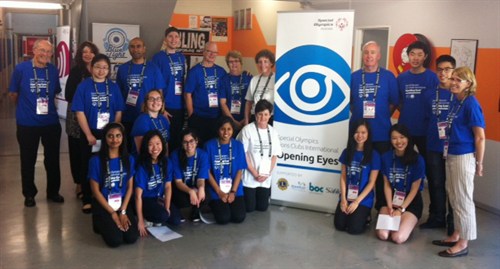 Volunteer optometrists for the Opening Eyes program with Susan Walton, standing left of the banner
The team is being co-ordinated by Newcastle optometrist Susan Walton, who has volunteered at 12 Special Olympics events worldwide since 1995, including organising eye checks at the first local event in Australia in 2002.
'The disabled is a largely underserved group when it comes to vision care,' Mrs Walton said.
'Research shows that 20 per cent of Special Olympics athletes have never had an eye examination, 68 per cent have not had an examination in three years, 37 per cent are in need of glasses, 18 per cent wear clinically incorrect spectacles and 16 per cent have an eye disease.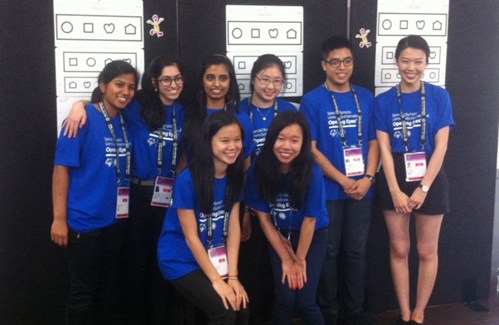 Volunteer optometry students
'I treasure every moment I spend as a volunteer at a Special Olympics event, both here in Australia and at international Special Olympics events.'
Mrs Walton is the clinical director for the Special Olympics Opening Eyes program for the Asia-Pacific Games, which is part of the Healthy Athlete Program health screening initiative in partnership with Lions Clubs International Foundation.
Opening Eyes has carried out more than 200,000 assessments in 80 countries, delivering more than 100,000 sunglasses, 90,000 pairs of prescription eyewear and 20,000 pairs of prescription sports and swimming goggles to athletes.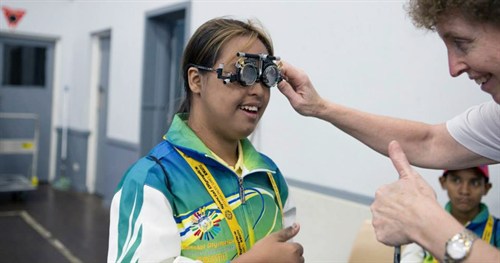 Optometrist Susan Walton gives the 'thumbs up' sign to a Special Olympics athlete
Mrs Walton works with Essilor, Safilo, BOC Instruments and the Lions Club to co-ordinate volunteers.
Athletes requiring spectacles or an up-grade receive cost-free lenses supplied by Essilor Australia and free frames from Safilo.
Tim Thurn, Essilor professional services, Australia and New Zealand, said Essilor would donate about $40,000 in lenses. Up to 40 per cent would be stock lenses but because many of the athletes have high myopia or hyperopia, 60 per cent are prescription lenses.
'Volunteers are truly the heart of this initiative and dedicate their time and skills to this Healthy Athlete Program which also provides other health checks such as hearing, dentistry and podiatry,' Mr Thurn said.
'The athletes overcome many challenges every day and it is our joy to make even the smallest of differences to their vision, which will not only help them while they are competing but also in their lives in general.'
At least 2,500 athletes and carers from 32 Asia Pacific countries will participate in the games from 30 November to 7 December. Vision screening is off-site at the Police and Citizens Club.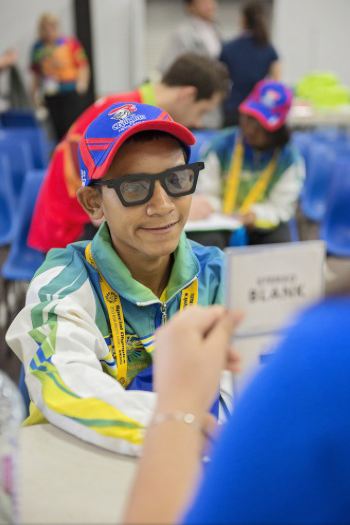 Colour vision testing an athlete from Myanmar
Essilor's global partnership with the Special Olympics began in 2002. For the first time Essilor is showing its sponsorship under the Essilor Vision Foundation banner, a public charity founded in 2007 by Essilor of America, which aims to eliminate poor vision and its consequences. 
Under the foundation's Kids Vision for Life program and an Essilor employee engagement program, Adopt-A-School, 116,728 vision screenings and nearly 30,000 pairs of spectacles have been provided.
Mr Thurn said Essilor was working with Darwin optometrist Helen Summers to bring the foundation to Australia.
Filed in category:
Uncategorised