Read time:

1:30min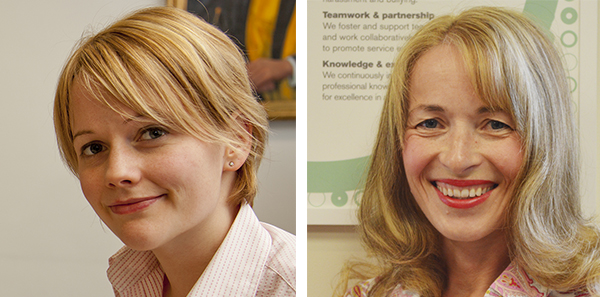 Dr Lauren Ayton (L) and Associate Professor Sharon Bentley
______________________________
By Helen Carter
Journalist
The latest Victorian Optometrist Training and Education (VOTE) Trust grants will fund research into patients' thoughts on students being involved in consultations, and improve student knowledge and expertise in AMD.
The grants for 2015-2016 have been awarded to Associate Professor Sharon Bentley from the Australian College of Optometry (ACO) and Dr Lauren Ayton from the Centre for Eye Research Australia (CERA).
Professor Bentley, director of clinical services at the ACO, will receive $10,000 to support her collaborative project entitled 'Impact of supervised student consultations on patient satisfaction'.
The work will be undertaken with the ACO's senior manager of teaching and quality Jane Trevaskis, Deakin University head of clinical partnerships Associate Professor Craig Woods, clinic director of University of Melbourne EyeCare Associate Professor Daryl Guest and University of New South Wales Optometry Clinic director Kathleen Watt.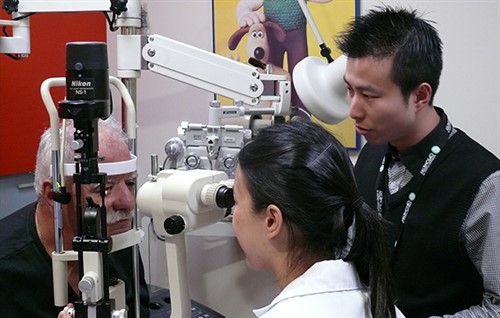 Joseph Choi from the ACO supervising optometry student patient examinations
'We were delighted to receive VOTE Trust support for this important project,' Professor Bentley said.
'For many years, as part of their training, students have been involved in providing supervised clinical care to patients. We know very little about the impact this has on the patient experience.
'Optometrists are increasingly being asked to host students and one reason for their apprehension is the assumption that patients prefer not to be seen by a student. If patients enjoy and see value in consultations involving students, this would be an important finding for the profession. If not, we need to modify teaching methods to improve the patient experience.'
Dr Ayton, Bionic Eye Clinical Research Team Leader and Senior Research Fellow, Department of Surgery (Ophthalmology), University of Melbourne, was awarded $7,555 for a project entitled the 'Treatment-Ready, Research-Ready Eye Clinic' (TRRRiC).
This work will be undertaken with CERA deputy director and head of macular research Professor Robyn Guymer and head of the University of Melbourne Department of Optometry and Vision Sciences Professor Allison McKendrick.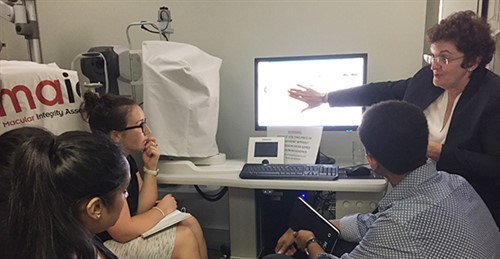 Professor Robyn Guymer teaching optometry students in the TRRRiC pilot
The initiative combines undergraduate optometry teaching with research and best-practice clinical management of people with age-related macular degeneration (AMD). The project seeks to improve student knowledge and expertise in the area of AMD.
If optometrists are interested in referring patients to the TRRRiC clinic, they can register their details on CERA's new clinical trials registry, WebSight.
Mitchell Anjou, the Optometry Board of Australia (OBA) nominated member on the VOTE Trust Grant Advisory Committee, said that in 2015, nine VOTE applications were received from eight organisations.
'The Grant Advisory Committee, comprising representatives from the OBA, Optometry Victoria, ACO, University of Melbourne and Deakin University, was again very pleased with the standard and diversity of the applications which included three non-Victorian applicants,' he said.
The VOTE Trust was established in 2010 by the then Optometrists Registration Board of Victoria and provides grants annually to support and advance the practice of optometry.
More than $87,000 has been disbursed over the first five years of the trust to 13 recipients.
VOTE grants are awarded annually and applications generally close in June or July of each year. Additional information about the VOTE Trust is on the OBA website.
Filed in category:
Uncategorised