Read time:

1:30min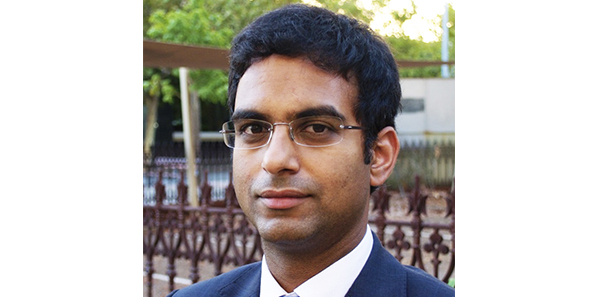 Dr Vignesh Raja
______________________________
By Helen Carter
To try to prevent vision loss, optometrists can use their gonioscopy lens to perform ocular massage on the cornea in an attempt to dislodge emboli or thrombus that cause a central retinal artery occlusion, delegates at WAVE will hear.
Consultant ophthalmologist at Sir Charles Gairdner Hospital, Perth, Dr Vignesh Raja will discuss retinal vascular emergencies and ocular emergencies in the optometry room, at Western Australia's Vision Expo in Perth on 8-9 August.
Dr Raja said that if an artery occlusion occurred or a patient presented with a painless blind eye and sudden loss of vision, there was a golden window of two to four hours to receive treatment or they would risk permanent vision damage.
'They require immediate treatment with either a Diamox injection or anterior chamber paracentesis from an ophthalmologist or ocular massage from an ophthalmologist or optometrist to lower eye pressure in an attempt to dislodge the thrombus or emboli,' he said.
'The optometrist should call the on-call ophthalmologist to arrange immediate consultation and treatment, rather than sending the patient to a hospital emergency department where they may sit for four hours without being treated and then it may be too late.'
Dr Raja will provide a refresher on what to do for chemical burns, acute closed angle glaucoma, giant cell arteritis, blunt trauma and papilloedema. Optometry Western Australia CEO Tony Martella had asked members to nominate topics they wanted to hear about that dealt with ocular emergencies in the optometry room.
'When an optometrist sees a retinal vascular emergency, there is a set of instructions and risk factors for each,' Dr Raja said.
He said practitioners should be aware of systemic and ocular risk factors of vein occlusions, and that checking the IOP was important. 'This is often ignored when there is a retinal pathology,' he said.
Referral to an ophthalmologist for intravitreal injection of anti-VEGF agents was recommended if an OCT scan showed macular oedema, he said.
'WAVE is driven by our members and has built a reputation for good speakers and clinical content,' Mr Martella said.
Clinical workshops will be repeated during the day on the Saturday. Optometry Australia national professional services manager Luke Arundel will discuss Medicare changes, Rob Ellis from ProVision will discuss recruiting and retaining the right people, Dr Peter Herse will talk about clinical grand rounds using OCT, SLO and fluorescence imaging, and Piers Carozzi will present case reports.
Lecture highlights include Dr Bang Bui and Professor Algis Vingrys talking about glaucoma and other topics, Professor Fiona Stapleton on contact lens and dry eye, and Optometry Australia national president Kate Gifford speaking at the opening ceremony.
WAVE 2015 will be held at the Pan Pacific Perth Hotel.
Filed in category:
Uncategorised