Read time:

1:30min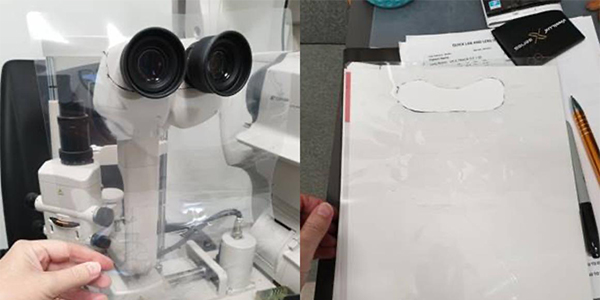 ---
Optometry Queensland and Northern Territory member Helen Flohr made this cheap and effective breath shield for her slit lamp by putting an empty sheet through the laminator then cutting a hole for the slit lamp eye pieces. It is significantly larger than many conventional breath shields. A recent American Academy of Ophthalmology coronavirus update suggested slit lamp breath shields were helpful for protecting both healthcare workers and patients from respiratory illness.
By Helen Carter
Journalist
Optometry Australia's help desk optometrists have been busy answering members' questions about coronavirus and have compiled them into a list of clinical questions and answers, providing helpful hints for practitioners during the coronavirus crisis.
The help desk is manned by our National Professional Services Advisor Sophie Koh, our Member Support and Policy Advisory Ben Hamlyn and our Chief Clinical Officer, Luke Arundel.
The list covers topics including masks, patient alert posters, disinfectant, minimising disease transmission, breath shields, contact lens patients and telehealth consults.
Members can visit www.optometry.org.au and click on the coronavirus tile. Scroll down on the clinical advice and practice notes section to access the clinical and infection control FAQ (update-17 March) to read the comprehensive answers to the below questions:
Does Optometry Australia have a patient-alert poster that we can use at our practice?
Will optometrists be able to access the government stockpile of masks?
Where can I get masks?
What should I be using to disinfect basic surfaces?
What can I use to disinfect equipment in contact with mucosal surfaces?
What about patients trying on frames? Are there non-alcohol alternatives?
What are other practical tips to minimise risk of disease transmission when seeing patients?
Where can I get a universal breath shield for my slit lamp?
Can I make my own breath shield for my slit lamp?
Should my patients still be wearing contact lenses?
Will optometry be able to offer telehealth consults?
Can I refuse to see patients with symptoms of COVID-19 or who are from high-risk countries?
Our extensive coronavirus resource section contains many other resources and is being regularly updated.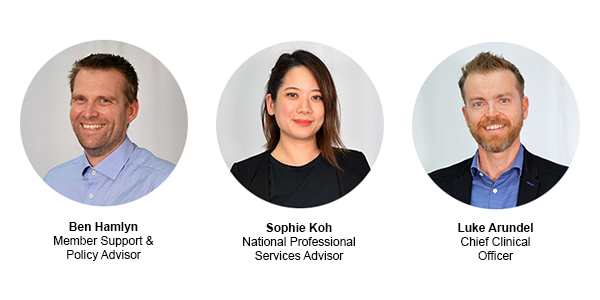 Optometry Australia's help desk comprising optometrists Ben, Sophie and Luke, here to help you through the crisis
Filed in category:
Coronavirus
,
Guidelines & practice notes
,
Member resources
,
Patient care & management
,
Practice equipment
,
Workplace
Tagged as:
COVID-19
,
Member services
,
Patient management
,
Practice equipment
,
Practice notes