Read time:

1:30min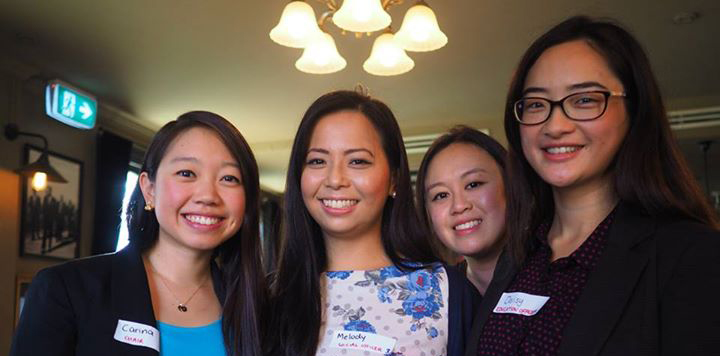 (L-R) Young Optometrists NSW members Carina Trinh, Melody She, Megan Tu-Foo and Daisy Shu
______________________________
By Rebecca Li
Young Optometrists NSW
Membership of Optometry Australia is much more than just professional indemnity insurance and CPD events.
The organisation's primary goal is to support and improve the profession while looking out for the interest of its individual members.
Optometry Australia provides a wealth of resources and experience, which are invaluable to the younger optometrist. They provide the national mentorship program, online resources on the Member Hub, and individual support for medico-legal matters.
The Optometry Australia national mentorship program is an excellent resource that young optometrists should use to expand their skills and support network. It connects a less experienced mentee with a more experienced optometrist in an elected area of interest such as rural practice, business or speciality contact lenses.
Optometry Australia also provides rapid responses to your phone calls or emails to answer any professional or medico-legal questions you may have.
This is particularly important for newer graduates, who may often find themselves in new and complex situations that may not have been addressed at university. The issues may vary from reporting someone who is unsuitable for driving, to applying for a new provider number, moving interstate or handling a patient complaint.
The Member Hub also provides important resources to help young optometrists build their patient base. There are templates available for connecting with GPs, pharmacists and your local Lions club, and using awareness weeks to raise the profile of the role of optometrists in eye care.
The professional indemnity insurance provided by Optometry Australia is also a premium product provided by Avant Insurers. It is a no-excess policy that covers overseas charity work, tele-health activity, breaches of privacy and advice on goods sold, and continues to cover you after retirement.
Optometry Australia provides a unified front for optometrists to allow for more effective lobbying of the government and initiation of change.
It is important to support the organisation that supports us.
'It's the things they do in the background'
'Being part of Optometry Australia strengthens our profession in that we can collectively guide what we want optometry to be in the future. Without our organisation, we would not have the power and expertise to shape our careers. I feel supported by the excellent service provided, where help is a simple phone call away for any matter, no matter how trivial or serious.'
—Carina Trinh, YO NSW chairwoman
'Andrew [McKinnon] helped me with advice on managing a tricky situation involving reporting a patient who did not meet the driving requirements, and communication between the patient, Roads and Maritime Services, and the ophthalmologist.'
—Megan Tu, YO NSW secretary
'It's the things they do in the background that benefit us that are important. Optometry Australia is the only organisation that has the best interests of the profession and all optometrists as its main focus. Optometry Australia in the past has been the reason we have the scope of practice that we have today.'
—Rajeev Naidu, YO NSW advisory officer
'When doing some volunteer work, Andrew [McKinnon] was really helpful in explaining how we best apply for a new provider number to ensure any Medicare billing went through correctly.'
—Christopher Pooley, YO NSW public relations officer
'Optometry Australia provides years of experience in Australian optometry, CPD events, access to Pharma, confidence that you're protected and supported by experienced professionals, and access to its website, which makes it easy to track your CPD points throughout the year. It is good to support Optometry Australia which lobbies for us and helps make a difference in terms of Medicare, glaucoma treatment and other issues.'
—Daisy Shu, YO NSW education officer
Filed in category:
Uncategorised