Read time:

1:30min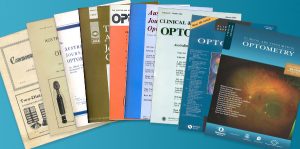 By Optometry Australia
Optometry Australia's 102-year-old journal, Clinical and Experimental Optometry (CXO), will be published by Taylor & Francis from 1 January 2021
All members of Optometry Australia, as well as partner societies the Hong Kong Society of Professional Optometrists and the New Zealand Association of Optometrists, will continue to receive full digital PDFs of each issue with full access to current and archive issues of the journal via Taylor & Francis Online.
The CXO journal team, including the Editorial and International Advisory Boards, also remains unchanged and continues to be led by Emeritus Professor Nathan Efron and Associate Professor Maria Markoulli, supported by Optometry Australia's Publications & Digital Manager Jess Donald.
CXO has had significant success under the leadership of Professors Efron and Markoulli, seeing not only year-on-year growth in its impact factor, but also in downloads and submissions to the journal.
The appointment of Taylor & Francis came after a tender process involving major Australian-based journal publishers.
Optometry Australia's CEO Lyn Brodie, said that the organisation was proud to publish such a quality journal that was widely embraced by members and that enabled the best Australian and international optometric research to reach an extensive global audience.
"We welcome working with Taylor & Francis to grow the journal's presence, impact factor and subscriptions as well as their ability to assist us in attracting more quality editorial submissions".
Portfolio Manager for Ophthalmology, Dermatology, and Pathology journals Arianne Groski said, "Taylor & Francis Group is thrilled to be the new publishing partner of Optometry Australia for Clinical and Experimental Optometry. Taylor & Francis looks forward to a partnership that is based on shared responsibilities, shared goals, and ultimately a shared celebration of success".
As Optometry Australia's publishing partner, Taylor & Francis will also provide additional benefits to members, authors, and editorial board members by offering a 30% discount on all related Optometry or Ophthalmology books published by Taylor & Francis.
Taylor & Francis will also be financially supporting a new award associated with the journal. This will bring the number of CXO-aligned awards to three including the H Barry Collin Medal and J Lloyd Hewett Awards.
Optometry Australia is currently seeking nominations for the H Barry Collin Medal.
Accessing CXO
To access CXO in 2021, login via the Optometry Australia website, visit the CXO homepage and click on "Read CXO". You will be automatically logged into the Taylor & Francis website and have thousands of articles at your fingertips.

Journal app
CXO will no longer be supported by an app, however Taylor & Francis Online is optimised to allow easy viewing of articles via mobiles and tablets, simplifying how you access the journal.
Filed in category:
Appointments
,
General news
,
History
,
Member resources
Tagged as:
Clinical & Experimental Optometry (CXO)
,
Member services
,
Stakeholders & partners