Read time:

1:30min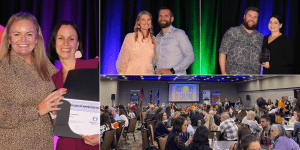 The 2023 National Aboriginal and Torres Strait Islander Eye Health Conference (NATSIEHC23) recently took place over three days on Dharug Country in Western Sydney. The remarkable event drew in over 240 delegates, including over 40 optometrists.
The conference aimed to build on the collective work of the Aboriginal and Torres Strait Islander eye health sector to improve eye health access and outcomes for First Nations Australians. It was led by the National Expert Group in Aboriginal and Torres Strait Islander Eye Health (NEGATSIEH) and co-hosted by AH&MRC (Aboriginal Health and Medical Research Council, NSW) and the Indigenous Eye Health Unit (IEHU) at The University of Melbourne.
The NATSIEHC23 theme 'Our Vision in Our Hands: Finding Our Voice' sought to highlight emerging and future First Nations leaders of the sector, while also resonating the strength and values of the longstanding movement for Aboriginal and Torres Strait Islander self-determination in health and the broader current national movement to enshrine First Nations Voice to parliament.
Representatives from Optometry Australia included CEO Skye Cappuccio, Policy & Advocacy Manager Sarah Davies and Optometry Development Manager Ben Hamlyn. National board director Lee Baumwol and state division staff were also in attendance.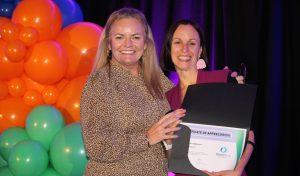 –
Sarah Davies said: 'Aboriginal and Torres Strait Islander peoples have a long history in promoting health and wellbeing and providing health care, and as a peak, national eye health professional body, Optometry Australia believes it has a responsibility to advocate with and work alongside Aboriginal and Torres Strait Islander peoples, to facilitate an Australia where all people have ready access to the eye care they need, provided in a culturally safe and respected environment.
NATSIEHC23 provided a unique opportunity for gathering and collaboration, showcasing the work occurring nationwide to advance eye health outcomes for Australia's First Peoples, and to celebrate the success of our collaborative efforts to date.'
Early career optometrists awarded bursaries to attend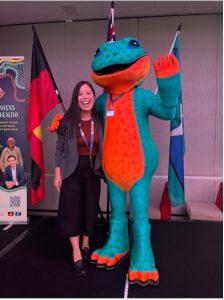 Optometry Australia provided full conference bursaries to early career optometrists Madeline Baker, Rhonda Ton, Rose Larossa and Ereeny Mikhail to attend.
Madeline said: 'I have been taken aback by the incredible voices of our First Nations Leaders. With the shared goal of improving eye health access and outcomes for First Nations Australians, I am empowered to stand up, advocate and support as an ally. Upon reflection, our role in moving forward is incredibly clear – as allies, we can offer support and stand with First Nations Australians, to amplify their voices and let them be heard. This is paramount to ensure a more inclusive, equitable and sustainable future.'
Rhonda said she appreciated all the valuable workshops and impactful narratives that have significantly influenced her outlook on Aboriginal and Torres Strait Islander eye health. 'It was inspiring to learn directly from the Aboriginal leaders in eye care,' she said. 'I would like to make a commitment to collaborate with fellow colleagues in striving towards closing the gap, and reducing the prevalence of preventable vision loss among First Nations people.'
Rose said attending the conference was an honour, allowing her to connect with colleagues in a safe, collaborative and culturally aware space. She added she was able to further her knowledge of access barriers, and increase her cultural awareness and responsiveness to the needs of First Nations individuals. 'My experience at the conference encouraged me to think more broadly as an ally, and to recognise the importance of self-governance and cultural respect in determining health outcomes. More than anything, the conference presenters impressed upon me the importance of centring First Nations voices, and to allow those at the intersections to determine the agenda. I've learnt that there is immense scope for a cooperative and participatory approach, and believe that recognising the importance of First Nations knowledge, traditions and leadership networks is vital.'
Ereeny noted that attending the conference was an incredible opportunity that she was immensely grateful for. 'I was lucky enough to be in the presence of amazing people who were able to share their moving stories, be inspired by those making a change in this space and think about what I can do for future generations,' she said.
Recognised for contributions to eye health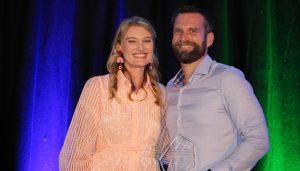 –
The annual National Aboriginal and Torres Strait Islander Eye Health Awards recognise champions and unsung heroes for their contributions to Aboriginal and Torres Strait Islander eye health. These awards been presented at the conference every year since 2018.
Optometry Australia's Ben Hamlyn was a recipient of an Allyship in Aboriginal and Torres Strait Islander eye health award. 'Ben received no less than four nominations, a testament to the impact Ben continues to have on his colleagues. He has made significant contributions to the health and well-being of the Anangu of the Pitajtjantjara Yankuntjtatjara Lands of South Australia, and throughout the regions where he works,' IEHU stated. 'Ben's commitment to indigenous eye health is evident in all aspects of his work, from his clinical practice to his advocacy for the provision of funded prescription glasses and policy work in his role at Optometry Australia.'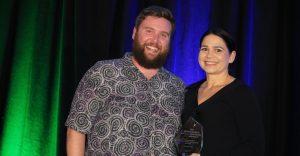 –
Optometry Australia also congratulates Wiradjuri woman and optometrist Shannon Davies, who received the Aboriginal and Torres Strait Islander Emerging leadership in eye health award. Shannon is Australia's first Indigenous woman to graduate in optometry. She is a pioneer for her people in optometry, and is currently the Deputy Chair of the Optometry Council of Australia and New Zealand Indigenous Strategy Taskforce and a member of the OCANZ Board.
Mitchell Anjou, Director of IEHU and Chair of Optometry Australia's Advisory Group on Aboriginal and Torres Strait Islander Eye Health, reflected on the strong optometry attendance and support from Optometry Australia at NATSIEHC23.
'We appreciate the wonderful contribution of my optometry colleagues and students and many Optometry Australia staff from across Australia attending the conference,' he said.
'It is really important now for optometry to support the developing Aboriginal and Torres Strait Islander leadership in eye health, work harder at increasing the First Nations optometry workforce and ensure that we introduce and listen to our First Nations colleague's 'Voice' in the profession's goals and work'.
Anne-Marie Banfield, Co-Chair of NEGATSIEH, said: 'Shaun and I were honoured to work with all of our partners in presenting the 2023 National and Aboriginal Torres Strait Islander Eye Health conference. I was inspired by the many Aboriginal and Torres Strait Islander presenters, who shared their wisdom and knowledge not only of the eye health sector but our connection to family, land and kinship. The future leadership that was present at the conference should motivate us all into the future, with our next generation of leaders finding their voice and sharing vision for the future with us all.'
The 2024 National and Aboriginal Torres Strait Islander Eye Health conference has been planned fornipaluna, lutruwita (Hobart, Tasmania).
Filed in category:
CPD, conferences & events
Tagged as:
Indigenous eye health