Read time:

2:0min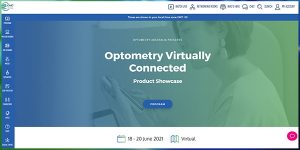 More than 2,400 delegates and exhibitors registered to attend Optometry Australia's second virtual conference, Optometry Virtually Connected & Product Showcase held from 18-20 June 2021.
The borders-free conference, held entirely online, saw almost 300 delegates attend from New Zealand, Fiji, Canada, the USA and 12 Asian countries including Japan, Vietnam, Hong Kong, the Philippines and India.
The OVC program included 22 guest speakers who were either involved in delivering the live presentations on behalf of Optometry Australia or optometric suppliers. A further 10 educators presented at the Asia Pacific Council of Optometry's Educator's Forum which ran in conjunction with OVC on Friday 18 June.
Professor Sohail Inayatullah, one of the world's leading future studies researchers, delivered the opening keynote address by providing fascinating insights into shifts in optometry and eye care that have occurred as a result of COVID, advancements in clinical and patient care including increase use of technology, and emerging conditions in optometry.
Over the 2.5 day conference, OVC provided delegates the opportunity to participate in a jam-packed program of quality education, the ability to network with friends and colleagues, the chance to explore the latest product innovations on the market and to learn about the latest cutting-edge optometric research.
Each of Optometry Australia's 10 live lectures, and the six optometric suppliers live CPD sessions, attracted on average 712 delegates with delegates given the option of completing an assessment program comprised of a combined 170 multiple-choice questions.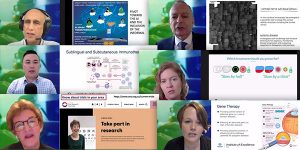 Some of the presenters included: Top: Prof Sohail Inayatullah; A/Prof Mark Roth; Centre: Dr Alex Hui; Dr Kate Gifford; Bottom: Prof Robyn Guymer; A/Prof Lauren Ayton
Delegates could also explore the latest research in eye health advancements and interventions via a series of nine posters presented by Optometry Australia's journal Clinical & Experimental Optometry. Posters were presented by optometry researchers from SEIG University, Malaysia Da-Yeh University, Taiwan and The Hong Kong Polytechnic University as well as Canberra University, University of New South Wales, University of Melbourne, Centre for Eye Health and Optometry Australia.
The magical opening presented by the BlackTies, attracted almost 370 participants and over 100 delegates opted to join yoga and wellness sessions to kickstart their days on Saturday and Sunday.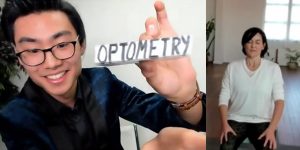 Created by optometrists for optometrists
Optometry Australia's President, Darrell Baker said that OVC was created in 2020 by optometrists for optometrists.
'In a world that was highly disrupted by COVID-19, we launched this virtual event with the goal of enabling optometrists to participate in a program of quality education, to engage with product innovators and to connect with colleagues without the need to leave the safety of home.
'The pandemic has accelerated digital adoption enabling a level of flexibility and convenience like never before.
'Critically digital does not recognise borders – hence, we were excited that we had optometrists from around the world join this year's conference'.
Mr Baker said that Optometry Australia is focused on the future with a strong commitment to evolving optometry so that optometrists can be well served in a world rapidly changing by technology, societal, health, demographic and economic influences.
'It is important for all optometrists that we can have a rewarding career in a sustainable, highly functioning and dynamic profession. Likewise, it is critical for our communities to be well serviced by such a dynamic and important health profession.
'Education is the foundation of achieving these goals and evolving as a profession, and this is a key focus of the conference'.
Education is also a key platform of Optometry Australia's newly released Shared Strategic Plan FY2021-2024 and Optometry Virtually Connected is one of the foundation stones of the organisation's goal to take its quality education program offshore to regions where optometry is less advanced.
International collaboration
Optometry Australia welcomed the Asia Pacific Council of Optometry (APCO) as joint participants in OVC 2021 with APCO holding its own educators' forum and general delegates meeting during the conference. New Zealand Association of Optometrists (NZAO) and the Dispensing Opticians Board of New Zealand (ODOB) also supported the conference.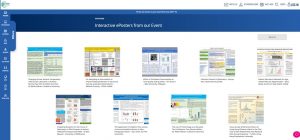 Above:  Of the nine posters on display at OVC 2021, three were presented by optometry researchers from SEIG University, Malaysia Da-Yeh University, Taiwan and The Hong Kong Polytechnic University.
APCO's President, Assoc Prof Peter Hendicott said that APCO, whose membership includes optometry associations in 17 countries, strongly believes that education can bring change for the better.
'It is the foundation that enables us to do our jobs better by increasing our skills for the benefit of the public. Eye health and good vision are foundations of a person's wellbeing and every community deserves access to well-trained and skilled optometrists', he said.
Rochelle van Eysden, Chair of NZAO said that while she was 2,570 kilometers from OVC 2021's event headquarters in Melbourne, it was terrific to be provided with the ability to access an excellent event providing valuable education and product innovation to support clinical and patient management.
Likewise, Jayesh Chouhan, President of ODOB commented how technology had changed conference delivery.
'Who would have thought two years ago that this was the way we would be attending a conference and that today, meeting like this would be the norm? But as we all know; the world has changed.
'But what has not changed is our eagerness to always better ourselves. To be the very best optometrists that we can. To be part of a profession that does so much to support the health and wellbeing of the communities that we serve'.
Filed in category:
CPD, conferences & events
,
National & State initiatives
Tagged as:
Clinical & Experimental Optometry (CXO)
,
Optometry Virtually Connected