Read time:

1:30min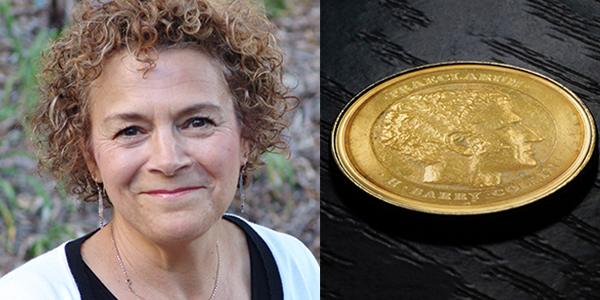 Professor Joanne Wood from QUT and the Collin Research medal
By Helen Carter
Journalist
Optometrist Professor Joanne Wood is the 15th recipient of the prestigious H Barry Collin Research Medal for her outstanding contributions in vision, ageing and driving research over three decades.
A professor in Queensland University of Technology's (QUT) School of Optometry and Vision Science, she is one of only three female recipients in the medal's 44-year history, sharing the honour with Professors Fiona Stapleton and Erica Fletcher.
'I am very proud to receive this award and hope that there will be many more female recipients in the future,' Professor Wood said.
The award is named after Professor H Barry Collin, long-serving former Editor-in-Chief of Optometry Australia's journal, Clinical and Experimental Optometry and includes a $5,000 prize and the recipient submitting a paper for publication in CXO.
It recognises outstanding contributions to the advancement of knowledge in optics, vision science or clinical optometry by a person who is an Australian citizen or a graduate of an Australian optometry school, or who has done a significant part of his or her research in an Australian institution.
Professor Wood's program of research has primarily focused on visual impairment and driving, night-time driving and visibility, and the functional impacts of vision impairment.
'I am delighted and honoured to receive this award that honours the research legacy of Professor Barry Collin,' she said.
Throughout her 30-year career, she has developed an extensive research network both overseas and within Australia that has led to a series of collaborative research projects in visual impairment, ageing and driving. Professor Wood has also received more than 20 national and international awards for her research, teaching and significant impact in optometry and eye care.
Translated research results into road policies and health practice
'A particular career highlight has been the opportunity to translate the results of our collective research into road policies and health practice, while advising organisations and professionals about road rules and standards for obtaining driving licences,' she said.
Joanne studied optometry at Aston University in Birmingham in the UK, followed by two years in optometric practice. After her Bachelor of Science (Hons) she completed a PhD in visual sciences at Aston University, where she was recently awarded the Honorary Doctorate of Science (Honoris Causa) for her significant contribution to vision research and optometry.
She completed a Post-Doctoral Research Fellowship in clinical psychophysics at Oxford University, before coming to Australia in 1989, to the School of Optometry at QUT, where she was appointed as the first Post-Doctoral Fellow in the then Centre for Eye Research.
Joanne has continued her career at QUT and was promoted to full Professor in 2005.
Her significant contributions to the field include her research findings being published in 272 peer reviewed papers (including 237 journal publications and 35 refereed conference publications), and four book chapters which collectively have been cited 13,213 times, with an h-index of 63 (Google Scholar 16/06/2021)
She has presented nearly 300 research papers at major international conferences.
Established Vision and Driving Research Laboratory
In 1991, she established the Vision and Driving Research Laboratory at QUT, which incorporates measurements of actual driving performance on a closed-circuit driving course and the open road, rather than making indirect judgements using crash rate data or driving simulators.
In the past 10 years, her research has attracted $8 million in funding from government bodies and industry partners.
Professor Wood has also amassed extensive research experience in her other areas of expertise – vision, balance and falls, children's functional vision, and Indigenous eye care.
'I really enjoy the challenge of researching across a range of areas,' she said. 'While the focus of my research has been on vision, ageing and driving, some of my research has also looked at the impact of vision loss on mobility and falls among older adults and other work has explored the link between vision and academic performance in children.'
Professor Wood is a member of Optometry Australia's Transport and Vision Standards Advisory Group and in 2019 co-developed Guidelines for optometrists to help prevent falls in older patients published on Optometry Australia's website. She has recently co-authored an article on the optometrist's role in falls prevention to be published in the July issue of Optometry Connection.
'While this award is a great personal honour, it also reflects the opportunities that I have been provided at my home university (QUT), and I would like to thank the amazing research colleagues that I have collaborated with both nationally and internationally over the years,' she said.
'Receiving this award is a wonderful recognition of the achievements of our research group here at QUT and I am very proud that we have been acknowledged in this way, both in Australia through this highly prestigious award, as well as internationally through other awards.
'I am also very grateful to receive the prize money, which I will contribute to ongoing research in our laboratory and I would like to sincerely thank those who generously nominated me for this award.
Working with inspiring researchers a career highlight
'I have had many career highlights, but perhaps the most satisfying part has been the opportunity to work with so many inspiring researchers across the world,' she said.
'Some have spent sabbatical visits in Australia working with our research group, and I have had the chance to work with others on short sabbatical visits to their laboratories.
'Collectively, they have encouraged me to keep researching in an area that is practically and often logistically challenging, but yet is highly relevant and translatable.'
The Collin medal is the second CXO award Professor Wood has received, as she was a joint recipient of the 2017 J Lloyd Hewett Award for the best article published in Clinical and Experimental Optometry in the past three years for a paper on the visual demands in primary school classrooms.
In 2019 she became the first woman to receive the International Optometrist of the Year Award from a Spanish collaboration. Other awards include the 2015 Arthur Bennett Prize awarded by the British College of Optometrists and the 2015 Glenn A Fry Award from the American Optometric Foundation and American Academy of Optometry, given to a distinguished scientist or clinician in recognition of the quality, significance, impact and relevance to optometry of their current research contributions.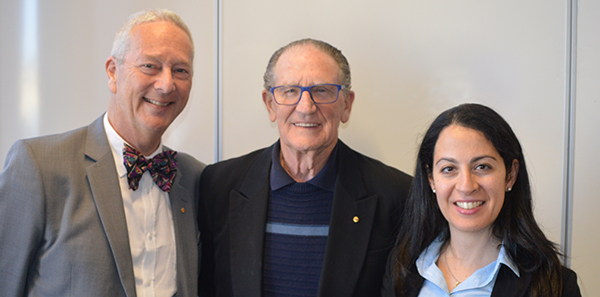 (L-R) Clinical and Experimental Optometry's Editor Emeritus Professor Nathan Efron, former Editor Emeritus Professor Barry Collin and Deputy Editor Dr Maria Markoulli
The H Barry Collin Research Medal
Emeritus Professor H Barry Collin AM, a distinguished optometrist, academic and researcher, became editor of Clinical and Experimental Optometry in 1993 and retired as Editor-in-Chief 25 years later in 2018 aged 85.
He was an academic teacher and researcher at the University of Melbourne, Head of the School of Optometry at UNSW and is Professor Emeritus at UNSW and a Professorial Fellow at the University of Melbourne.
Professor Collin had a distinguished career, published more than 130 papers in peer-reviewed journals, held appointments at universities overseas, and was awarded many prestigious prizes and awards.
 Collin medal recipients
H Barry Collin AM, 1977
Brien A Holden OAM, 1988
Gerald Westheimer AM, 2009
John D Pettigrew, 2010
Anthony J Adams, 2011
Donald E Mitchell, 2012
Robert Hess, 2013
David Atchison, 2014
Nathan Efron AC, 2015
Shaun Collin, 2016
Mark Willcox, 2017
Fiona Stapleton, 2018
Erica Fletcher, 2019
Konrad Pesudovs, 2020
All past original research papers are freely available to read in the H Barry Collin Research Medal Virtual Issue on Taylor & Francis Online
Filed in category:
General news
,
Research & surveys
Tagged as:
Awards - honours - grants-bursaries
,
Clinical & Experimental Optometry (CXO)