Read time:

1:30min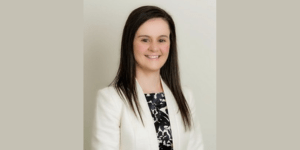 Optometry Virtually Connected, Optometry Australia's leading online conference, is being held from 17-19 June 2022. We recently spoke Associate Professor Laura Downie who has extensive knowledge in dry eye disease, ahead of her plenary lecture.  
A/Prof Downie is a clinician scientist who has gained international recognition for research excellence in ocular disease, with awards, highly cited papers, patents, international speaking engagements and appointments to key professional bodies. She is an Associate Professor at Melbourne University and an inaugural Dame Kate Campbell Fellow in the Department of Optometry and Vision Sciences in the Faculty of Medicine, Dentistry and Health Sciences. 
She will present her lecture, The Latest Research in Dry Eye, on Saturday 18 June at 9am AEST.  
 A/Prof Downie says that dry eye is a hot research topic around the world, owing to its high prevalence and its symptomatic nature. 
'There have been reports of increased dry eye symptoms amongst the general population in association with lifestyle factors attributable to the COVID-19 pandemic, which has spurred research into links between extended screen use and dry eye, and the potential effects of mask wearing.  
'More generally, there is wide variety of research being undertaken, including efforts to better understand the epidemiology, aetiology, risk factors and natural history of dry eye disease, through efforts such as clinical trial registries and even smartphone applications that can gather large-scale, individual real-world data across multiple geographic regions. There is also a large body of research that is focussed on developing new diagnostics and therapies.'  
She notes that optometrists have a vital role in the long-term care of patients with dry eye disease, as it is a chronic condition that rarely requires surgical intervention. 
'Not only are optometrists often the first to comprehensively diagnose a patient with the condition, but many therapeutic options can be independently prescribed by therapeutically qualified optometrists. There are also a range of relatively newer in-office, device-focussed treatments that can be integrated into optometry practices, and offered to patients, in addition to traditional therapies.' 
A/Prof Downie says that dry eye disease is becoming more of a focus for eye health professionals. 'In my experience, optometry continuing professional development events focussed on dry eye disease often receive a lot of interest from practitioners; I sense that optometrists are keen to ensure they are up to date with the latest research evidence, so they are able to provide optimal care to their patients.'  
Registrations for Optometry Virtually Connected are now open. Optometry Australia members and members of New Zealand Association of Optometrists can register and attend for free. Non-members can attend for just AUD$395 per delegate.  This year's conference offers 40.5 hours of education including 22.5 hours (18T) from live lectures. 

Filed in category:
CPD, conferences & events
Tagged as:
Dry eye