Read time:

1:30min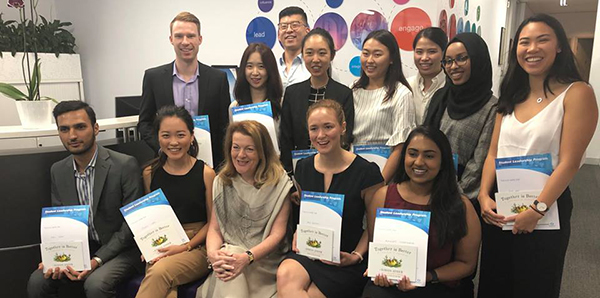 The 12 inaugural participants in the 2019 Optometry Australia Student Leadership Program, with Optometry Australia National CEO Lyn Brodie, centre front
By Helen Carter
Journalist
Optometry Australia is calling for expressions of interest for the second intake of its Student Leadership Program designed to give students the skills they need to become future leaders in the optometry profession.
The organisation today, Tuesday August 20, launched its 2020 Optometry Australia Student Leadership Program and requires expressions of interest by the end of September, with successful participants being notified in mid-late October.
There are limited places for the program which will be hosted in Melbourne from January 20 to 22, 2020. All enrolled optometry students who will commence their final year during 2020 are invited to express their interest in participating.
The program, which was launched in 2019, includes a variety of coaching sessions focusing on different models of leadership, understanding the purpose of leadership and clarifying guiding values.
It is designed to ensure optometry's emerging leaders have the skills to navigate the anticipated opportunities and challenges of a changing optometry landscape.
Participants are also provided opportunities to network formally and informally with established leaders in optometry, including members of the Optometry Australia Board and staff, and representatives from Optometry Australia's early career optometrist groups.
Listen to some of the 2019 participants
Flinders University student and one of the inaugural participants, Thomas Ford, said that since returning to Adelaide, he was looking for an opportunity to put the skills and knowledge developed at the program into practice.
'I was extremely privileged to have had the opportunity to join the Optometry SA Board as a student observer. Here, I could really put the theory learned at the leadership program into action,' he said.
'Given the Board was such an inclusive and supportive environment, I was able to listen to, and observe proceedings, contributing by way of opinions and ideas to the decision-making process. A remarkable and fascinating experience to be a part of whilst still studying, which without participation in the leadership program, may not have eventuated.'
Thomas said that since the amalgamation to Optometry Victoria/South Australia, there was an opportunity to transition to the state-based advisory group and continue the important role of representing the student voice to key decision-makers in the industry.
'I commend the inclusiveness and encouragement provided to students such as myself to pursue these opportunities, to learn first-hand from our professions' leaders and to continue their legacy into the future,' Thomas said.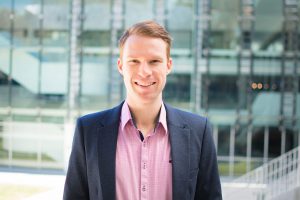 Thomas Ford
'We were very fortunate to have formed part of the inaugural program, almost an experiment, but a very successful one. I strongly desire to actively contribute to the future direction of optometry in Australia, particularly during this critical time of change within our industry.
'I hoped to gain the skills and knowledge to lead my colleagues through our ever-changing industry. I was also wishing to meet like-minded students who were passionate about representing their peers to the wider optometry community, and who were championing the optometry cause.
'I was curious as to where optometry was headed, and importantly, how we can realise that vision together and am excited for its future and wish to actively participate in its development.'
Thomas said attending the program had strengthened his enthusiasm for representing his peers, now and into the future, and sparked a passion to continue giving back to optometry by advocating for the profession.
'It provided a pathway through which we could contribute further to optometry and was an invaluable opportunity to learn first-hand from industry leaders, about the breadth of Optometry Australia's influence and advocacy, as well as being more aware of the major opportunities and challenges that lie ahead.
'Since my return from the program, I have proactively sought opportunities to become more involved in the future of our profession and have made positive contributions to the student experience whilst at university.'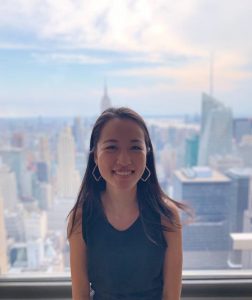 Jingyi Chen
Another participant, Jingyi Chen from Deakin University, said she had always been curious about the profession and changes it had undergone and were yet to come.
'I saw this as a unique opportunity to learn more about these changes, meet like-minded people and play a part in shaping the way it might look in the future,' she said. 'I was involved in ambassador and leadership roles at university and participating in the program seemed like a fun and interesting challenge.'
Opened her mind to work avenues
Jingyi said the program had opened her mind to the 'incredible number of avenues in which an optometrist can work.'
'Like many other students, I thought that the only two career options were clinical and research. Not only are there more ways to work as an optometrist, such as in advocacy, I've also learnt that there are many fields within clinical and research areas,' she said.
'It's shown me how optometry is a diverse and wonderful profession with lots of potential for personal and professional development. This realisation has helped me become more hopeful for the future, especially with the development of Optometry Australia's Optometry 2040 report.'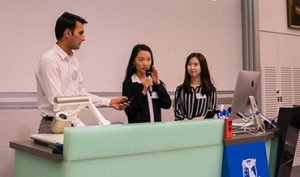 L-R, Three of the 2019 participants Hafi Khan, Jingyi Chen and Mina You did a presentation on the Student Leadership Program earlier this year at an Optometry Victoria paediatric seminar
Fellow Deakin student and inaugural participant, Hafi Khan, said the program had also had a positive effect on him and was similarly impressed with the variety of optometry leadership roles.
'One aspect that I recall most frequently is that leadership in optometry is not confined to working for Optometry Australia at the policy and campaign level,' he said. 'Leadership contributions in research, clinical excellence and workplace are other avenues that will positively support optometry.
'I was eager to take part because the program offered a unique opportunity for leadership training as well as meeting industry leaders and networking. I am genuinely curious about the future of optometry as a profession and this program was plenty motivation for me to attend to explore the viewpoints of current leaders and exchange ideas.
'My application was mostly motivated by my interest in public health and policy but with the benefit of hindsight, the program has something to offer everyone involved.
'Firstly, exploring different styles of leadership and their benefits/considerations was truly insightful; hearing about the nuances of policy work within the industry interested me greatly, and finally, meeting bright fellow optometry students from around Australia was a huge highlight.'
Jingyi said she had learnt a lot about herself including her leadership style and how she could make a difference to optometry now and as a practising clinician.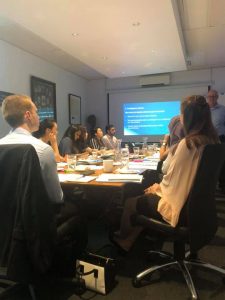 'I feel so privileged to have been part of this program and I would 100 per cent encourage others to take part. Not only is it a great opportunity to learn about being a true leader but there's also a chance to network with brilliant minds in optometry and other inspiring students,' she said.
'It's fantastic to get a peek into what's going on in the profession as a student and gain insight into the issues that optometry is facing, as well as what we can do to help.'
Hafi said the program exposed participants to unique optometry-related ideas and discussions with the future prospect for doors of opportunity that many don't know exist.
Thomas added: 'It is incumbent upon us as students to contribute to the strategic direction of optometry, to look beyond the horizon and envision what could be. I strongly encourage students with a passion for leadership and an interest in the future of optometry to apply, as it is an invaluable opportunity to meet like-minded students who will undoubtedly become life-long friends.'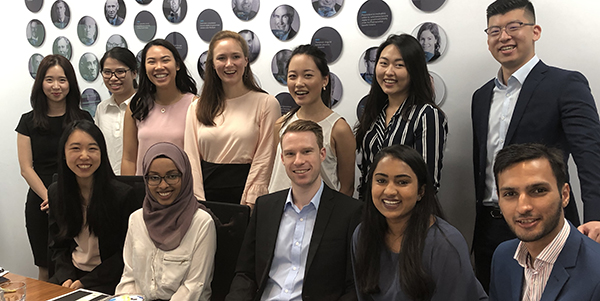 How to apply
Applicants are required to send an application letter of no more than 500 words, addressing the following questions in their response:
What do you think being a leader means?
What leadership experience have you had?
Why do you think you would benefit from participating in the Optometry Australia Student Leadership Program?
Please also include a written referral (of no more than 200 words) from one of your lecturers or tutors, briefly describing why they recommend you to participate in this program.
Applications are due to policy@optometry.org.au by midnight on Sunday 29 September 2019.
For more information, please email policy@optometry.org.au or call us on (03) 9668 8500.
Filed in category:
ECOs & students
,
National & State initiatives
Tagged as:
Awards - honours - grants-bursaries
,
Leadership
,
Students