Read time:

1:30min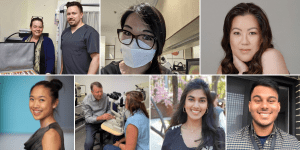 Optometry Australia is committed to celebrating the achievements of members and invites you to nominate interesting stories that you think may be of interest to our member community.   
Trinity Scarf, National Marketing and Engagement Manager, explained that members appreciated hearing about the successes, experiences and career pathways of their peers.
'We find that when we profile one of our members, it generates good engagement amongst other members as their stories not only shine a light on their achievements, but they can also spark ideas or be inspiring and helpful to others.
'We have profiled members at every stage of their career journey and highlighted interesting stories and adventures over the years – from those who have volunteered abroad; established ex-pat networks and mothers' groups; received scholarships and awards; women who have opened their own practices, through to members who have launched their own sustainable eyewear range.
'We recently profiled dual-career optometrists Angie Trinh, Audrey Molloy and Tsu Shan Chambers for instance, in a story about successfully balancing multiple careers, and Brisbane-based optometrist Rory Dowdall on his experiences adapting to COVID and starting a mobile optometry business.
'It never ceases to amaze us how inspirational our members are and how varied the careers of optometrists can be', Trinity said.
Optometry Australia is therefore extending an invitation to members who have an interesting story to tell, or who might know of others who have excelled either in their profession or in a side interest, to share with us their stories for a chance to be profiled amongst our national community of members.
'While we may not be able to feature every story we receive, we are of course grateful to every member who reaches out, and we are focused on building a bank of positive stories about our members for profiling over time.'
Members can direct all queries, requests and nominations to our Member & Community Engagement team at community@optometry.org.au. Please ensure that you give specific examples and context of your case study.
Filed in category:
General news
,
Members & member initiatives
Tagged as:
Career
,
Member services