Read time:

1:30min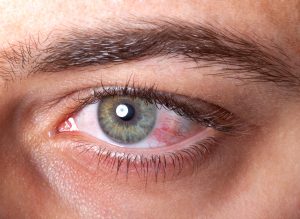 In a landmark development, Ikervis treatment for severe keratitis in adults with dry eye disease (DED) is now available on the PBS, making it the first cyclosporin drug to be PBS-listed in Australia.
Available from 1 October 2021, Ikervis (ciclosporin 0.1% eye drops) is used to reduce inflammation associated with severe keratitis in cases of DED where the use of artificial tears is insufficient.
In-licensed by pharmaceutical firm Seqirus, a wholly owned subsidiary of Melbourne-based CSL, Ikervis was approved by the TGA in December 2020 and is a Schedule 4 (S4): Prescription Only Medicine, with only optometrists and ophthalmologists eligible to prescribe Ikervis under the PBS.
With dry eye presenting as one of the most common complaints among patients, and over-the-counter options often providing limited relief, access to a more affordable treatment for DED is exciting news for both clinicians and Australians suffering from this condition.
New pathway of therapeutic prescribing for optometrists
It is important to note this will be a new pathway of therapeutic prescribing for optometrists, with phone or online authority via Health Professional Online Services (HPOS) required in order to prescribe Ikervis. Further, there are several clinical criteria that must be met before the patient can be deemed eligible for a PBS prescription.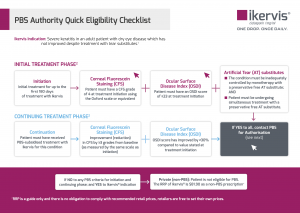 To be eligible for Ikervis under the PBS, the patient must have:
a Corneal Fluorescein Staining (CFS) grading of 4 at treatment initiation using the Oxford scale or equivalent;
an Ocular Surface Disease Index (OSDI) score of greater than or equal to 23; and
the condition must not be adequately controlled by monotherapy with a preservative-free artificial tear substitute.
The graphic below is an example of a patient exhibiting signs of severe keratitis graded via the Oxford scale.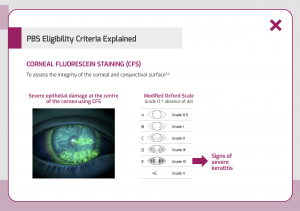 As a reminder on how to assess the OSDI score, the patient must complete the OSDI questionnaire to get a score on a scale of 1 to 100, with higher scores representing greater disability.
A PBS Authority Eligibility Guide for Ikervis is available for members to download here from the PBS section of our website. There is also a shortened, two-page reference guide available here.
To contact the PBS for immediate or real-time assessment, optometrists can contact PBS Authority on 1800 888 333 for a 24-hour service or via HPOS.
Surging rates of DED due to the COVID-19 pandemic
The addition of another PBS-subsidised dry eye treatment will be welcome news to many, as an increase in screen time and mask associated dry eye (MADE) during the COVID-19 pandemic has reportedly exacerbated cases of DED.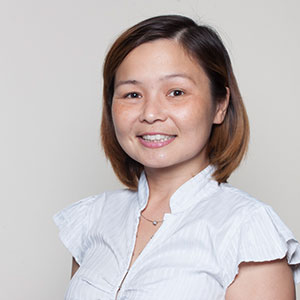 Head of Professional Services at George & Matilda Eyecare, and Adjunct Senior Lecturer at the School of Optometry & Vision Science at UNSW, optometrist Dr Margaret Lam said, 'Severe inflammation of the cornea from dry eye disease is complicated by a difficult cycle involving inflammation of the eye and damage to the eye surface. Treatment options targeting the immune system are therefore needed to manage these complications from DED, and break the cycle of inflammation.'
OA Board member Dr Lam added, 'Artificial tears aim to provide symptom relief for DED, but don't address the underlying cause of severe corneal inflammation. In these cases, inflammation-reducing treatment options are required.
'Today's PBS listing of another treatment option for severe keratitis in adults with DED is therefore welcome news for ophthalmologists, optometrists and patients alike.'
Members can find the updated annual PBS and Scheduled Medicines list by visiting the Prescribing medicines and PBS section of our website.
Filed in category:
General news
,
Member resources
,
Patient care & management
,
Therapeutics