Read time:

2:00min

Optometry Australia and the Australian College of Optometry (ACO) have signed a memorandum of understanding (MoU) to explore collaborations and potential joint ventures that mutually support the progress of the optometry profession.
The two organisations are considering synergies which could lead to mutually beneficial opportunities that could be applied nationally to maximise their impact, including discussions focused on professional education, clinical research and innovation in clinical care.
What the collaboration means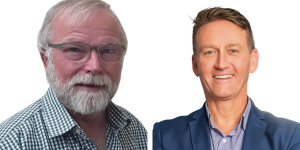 Pic above: Australian College of Optometry President Rodney Hodge (left) and National President, Darrell Baker (right)
National President, Darrell Baker said, 'Optometry Australia and the ACO have always been interconnected and we believe that there are many synergies that would be highly beneficial for both our memberships, and the profession broadly, that are worth us collectively exploring'.
He added that partnerships, such as those with the ACO, enabled Optometry Australia to challenge itself to find new ways of operating to support the on-going evolution of the profession as well as how to better support members.
ACO President, Rodney Hodge said, 'The Australian College of Optometry's vision is to achieve world leading eye health outcomes. Fostering excellence through collaboration and facilitation enables the ACO to push for innovative ways to achieve their goals'.
Mr Hodge continued that, 'The role of the ACO is to improve education, clinical care and research and thus improve the lives of the people in the communities we serve. To enhance this capacity the ACO strongly supports this collaboration with Optometry Australia'.
He added, 'While we already have a strong relationship with OA, we anticipate that the MoU will provide a framework to explore our joint capacity to help the optometry community deliver more value to the public'.
Investing in the future
Darrell Baker said that for the organisation to continue to represent its members more fully, Optometry Australia must evolve, continually innovate and challenge itself to be in the best position to support members and to meet the goals identified in Optometry 2040, the sector's 20-years transformational roadmap launched in December 2018.
'This agenda, developed by Optometry Australia in association with members and sector stakeholders, was created to guide the future of eye health and eye care in Australia.
'To lead the sector towards 2040, and to achieve the targets set in this long-term strategy, the National Board recognises that Optometry Australia must invest in the technology, education and innovation required for optometrists to take control of their future.
'By seeking different ways of working with likeminded organisations, such as the ACO, we will be in a stronger position to achieve these outcomes', Mr Baker said.
Sustainability is a key pillar of the organisation's FY2021-2024 Shared Strategic Plan and in launching this in early June this year, Mr Baker committed that Optometry Australia would be brave in its decision making by ensuring it had the foresight to innovate through the adoption of new services, new technologies, new skills and new ways of doing business.
Mr Hodge said that, 'Preparing for the future was vital, and a key part of the ACO's agenda is to strengthen and assist the evolution of the profession of optometry. Collaboration and facilitation, along with independent action are, and will continue to be, important for delivering the best possible outcomes'.
Filed in category:
National & State initiatives
,
Sector news
Tagged as:
Future
,
Leadership